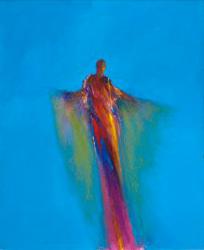 Handelman's abstract figurative paintings invite the viewer into a deep, beautiful , luminescent journey
San Francisco, CA (PRWEB) September 14, 2011
Nieto Fine Art invites art lovers to the opening of a show by local abstract artist Ed Handelman, called "Untitled." The opening event will be on September 15th from 6 to 8 PM at Nieto Fine Art's San Francisco fine art gallery, located at 565 Sutter Street at Powell.
"Handelman's abstract figurative paintings invite the viewer into a deep, beautiful , luminescent journey," says John Haas of Nieto Fine Art. "His figures emerge from the canvas as if they had moved through a brilliant spectrum—his palette strikes the chords of absolute joy."
Ed Handelman is a San Francisco painter who resides in North Beach. He has studied at the California School of Fine Arts and the University of Florence. Handelman's paintings have been shown galleries in Europe and around the United States. His work is included in many private and corporate collections.
The new San Francisco fine art show is called "Untitled" because all the paintings are untitled. The show includes 21 of Handelman's colorful paintings.
For more information about the Nieto Fine Art, contact Anaya Nieto by calling (415) 393 4511 or visit them on the web at http://www.nietofineart.com.
About Nieto Fine Art
Nieto Fine Art is a San Francisco fine art gallery that features artwork by John Nieto, whose art is prominently displayed in presidential libraries, embassies, and in both museum collections and private collections around the world. Nieto Fine Art also features a dynamic lineup of local artists including Fernando Reyes, Jaya King, and Georgianne Fastaia and regularly hosts San Francisco fine art shows. The gallery commits to bringing a fresh, changeable charge of emotion to the community of contemporary artists.
###