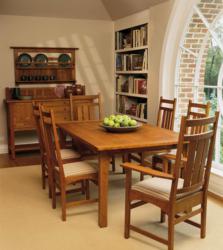 This is a rare opportunity to get such a low price on Stickley furniture
Menlo Park, CA (PRWEB) February 16, 2012
Presidents' Day Weekend brings incredible savings opportunities at Flegel's, a Bay Area furniture company with showrooms in San Ramon and Menlo Park. From February 17-20, shoppers will get 45% off on any one piece of hand-crafted Stickley furniture. This offer can be combined with other available discounts for incredible savings.
"This is a rare opportunity to get such a low price on Stickley furniture," says Brian Flegel, owner of Flegel's. "Many fans of Stickley's superior craftsmanship eagerly await this sale all year long."
The ongoing Flegel's Winter Sale provides additional discounts, with 33% off on Stickley furniture through March 10. Smart shoppers can combine these offers to get great savings on multiple pieces: 45% off one item and 33% off the rest of the set.
Stickley fine furniture has been hand-made in central New York State for over 100 years. The family-owned business is dedicated to solid construction, visible joinery, and using only the highest quality of woods. The Stickley brothers, who founded the company in 1900, always adhered to the Flemish phrase "Als Ik Kan," translated as "To the best of my ability." The phrase continues to represent the ethos of Stickley craftspeople to this day.
Flegel's is not only the largest Stickley dealer in the San Francisco region; it is the largest retailer of Stickley furniture west of the Mississippi. Flegel's features pieces from most of Stickley's lines including Stickley Mission, Stickley Metropolitan, and Stickley Fine Upholstery.
Flegel's is open for the Presidents' Day Weekend Sale Friday, Saturday, and Monday (February 17, 18, and 20) from 10AM to 6PM. The Menlo Park location is usually closed on Sundays, but both showrooms will be open on Sunday, February 19 from 12PM to 5PM.
For more information about the Presidents' Day Weekend Sale on Stickley furniture, or for information about any products or services from Flegel's, please call (650) 352-3648, http://www.flegels.com/, or stop by one of the showrooms, located at 870 Santa Cruz Avenue, Menlo Park, CA 94025 and 300 Market Place, San Ramon, CA 94583.
About Flegel's
Flegel's showrooms house the finest collections of furniture in the San Francisco Bay Area. Most visitors are surprised to find so many pieces of fine furniture readily available for their inspection. Flegel's features large collections of Stickley, Baker, Councill, Swaim, and more. The only thing more exceptional than the furniture is the friendly San Francisco interior designers on staff. Anyone thinking of redecorating a San Francisco living room, dining room, bedroom or any other part of the house is invited to come in and talk to one of the friendly Flegel's interior decorators today.
Flegel's serves the San Francisco Bay Area communities of Atherton, Burlingame, Carmel, Danville, Fremont, Hillsborough, Lafayette, Livermore, Los Altos, Los Altos Hills, Los Gatos, Menlo Park, Moraga, Marin, Mountain View, Orinda, Palo Alto, Pebble Beach, Pleasanton, San Francisco, San Jose, San Mateo, San Rafael, San Ramon, Saratoga, Tiburon, Walnut Creek, Woodside, the greater Bay Area, and worldwide.
# # #