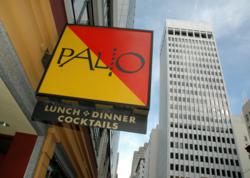 Manhattans are my personal favorite libation
San Francisco, CA (PRWEB) April 02, 2012
Shaken, stirred, vodka or gin? Inspired by the return of Mad Men to the airwaves, Executive Chef Dan Scherotter and co-owner Martino DiGrande at Palio D'Asti Italian restaurant in downtown San Francisco have decided to encourage the return of business meal libations by featuring $1 martinis at lunch throughout April with the purchase of any 2 a la carte courses. Something of which Don Draper would certainly approve.
"We have so many regulars at lunch that offering martinis at 1960s prices seemed a natural way to say thanks for your loyalty," said DiGrande, who personally greets all guests and manages both the restaurant and its full bar program. "Plus, Administrative Professionals Week occurs in late April, and being able to afford a drink in the middle of the day adds a bit of a festive touch."
Located midway between Union Square and the Financial District, Palio has long been a favorite of downtown's movers and shakers for their Michelin-rated "comfortable" service and authentic, regional Italian cuisine.
In addition to dollar martini specials in April, Palio is hosting a "Manhattan Project" mix and match program.
"Manhattans are my personal favorite libation," chimed in Chef Scherotter, who studied and lived in Italy and personally oversees the kitchen daily. "I wanted people to experience different variations via an easy mix-and-match menu that allows them to pick from different categories of ingredients to create their own signature drink."
Palio's lunch and dinner menu currently features spring-friendly dishes, proven favorites over its 21 year history, including lamb, asparagus and strawberries offered three different ways. An a la carte lunch and prix fixe dinner menu features any 2 courses for $31, 3 courses for $39, and 4 courses for $44.
Palio has recently added a Roman Spring Tasting Menu for $65, which features 5 courses plus espresso and a housemade Limoncello digestive with wine pairing optional.
An assortment of unpasteurized Italian cheeses joins a full dessert menu including artisan gelato, house-made biscotti and cookies, and organic Amedei Chocolates, a Palio exclusive in San Francisco.
About Palio D'Asti
Celebrating 21 years of authentic, seasonably changing cuisine with an emphasis on local, organic and sustainable ingredients, Palio D'Asti features classic and contemporary Italian regional cuisine combined with exceptional service at its ala carte lunch and prix fixe dinner. Palio D'Asti also hosts the best San Francisco happy hour, which features a $1 artisan pizza with the purchase of two adult beverages.
With several private rooms available for group dining, Palio D'Asti is also the ideal San Francisco party venue or corporate meeting location. Breakfast and all day meetings can also be accommodated.
Open Monday-Friday for lunch, Monday-Saturday for dinner, Palio D'Asti is located at 640 Sacramento Street between Kearny and Montgomery in San Francisco. For reservations or more information call (415) 658-9295. To make reservations, go online to http://www.paliodasti.com.
Two hours free validated parking is available at the nearby Portsmouth Square Garage at lunch and dinner.