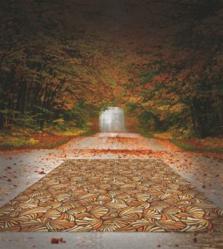 We represent a fun and unique line of rugs based on designs created by celebrated Australian designer Florence Broadhurst
San Francisco, CA (PRWEB) October 06, 2011
San Francisco interior designer David Mast says that the right area rug visually integrates and harmonizes décor in any room—and even reenergizes a space. The floor is, quite literally, the foundation for the room's design. It grounds the entire room design and its furnishings. Understanding its importance, Mast lays out the key aspects of selecting the right area rug for a space.
"When furnishing an area in the home, I like to start with the area rug," said Mast. "The area rug, especially in contemporary design, is the main artwork of the space. Its color palette and design is the cohesive element that ties together the furnishings of a room."
Materials
The first consideration, according to Mast, is the choice of materials for the area rug. Mast uses only natural fiber area rugs in his design. Some of the natural fibers available include wool, silk, sisal, hemp, jute, banana silk, bamboo, seagrass and cotton. There are important differences in their properties, which determine how suitable any particular rug is for its intended use.
Wool has always been celebrated as the number one choice because of its durability, resilience and resistance to wear. It is also known for its softness, luxurious feel and its excellent ability to hold color and to hide dirt. It is also naturally fire retardant. New Zealand wool is traditionally regarded as the best quality wool, but some of the Nepalese wools are known for their ability to resist stains due to their high content of natural sheep lanolin. The main drawback of wool is that, while the scale structure of wool fiber helps it resist dry staining, wool readily absorbs moisture and associated stains.
Silk is also used frequently and is appreciated for its unparalleled softness and luster. Quite often, it is used to create a beautiful sheen in an area rug. In addition, silk is known for its good resilience and wear resistance, but it's more susceptible to sun fading, dye loss and yellowing than other materials.
Other natural fibers—like sisal, hemp, jute, bamboo and seagrass—are lauded for their "green" qualities and naturally anti-static, thermal and acoustic insulation properties. Any pattern is usually the result of varying the texture and weave of the materials, which gives them a handsome, effortless look that is well suited to a variety of spaces. Similarly to wool, however, these materials absorb moisture and, unless chemically treated, are sensitive to chemicals, moisture and pest attacks. Although sisal is stronger than hemp and jute, none are recommended for high traffic areas.
Size The Rug To The Room
Different areas of the home serve different needs, and the choice of area rug defines the look and feel. It is here that form and function must be considered.
To determine the ideal size and shape of a rug, start by sizing up the area being covered. It is always a good idea to show off some of the original hardwood or tile flooring. Mast usually leaves a border of the original space between 15" to 24" around the area rug.
Allow the area rug to define the space. A common mistake is using an area rug that is too small for the space. The area rug should make the space feel larger than its actual size. A runner through a hallway always warms up the space, and leaving anywhere from 6" to 12" on either side is a good idea.
It is always fun to use multiple rugs in a space. It gives the space a more eclectic look. Rather than one main rug, use two or three placed side by side or spaced apart from each other. This adds additional interest and warmth to a space like a foyer, bedside or hallway.
In the living room, an area rug most often grounds the space and allows the furniture to float away from the walls. An area rug under a dining room table should be large enough so that when the chairs are pulled out from under the table, the back legs remain on the area rug.
Most of the rug will be hidden under the bed in a bedroom, so it's best to choose a rug that extends beyond the sides and base of the bed.
Color And Pattern Of Your Rug
The Bay Area interior design expert says to visualize the finished look of the room. The area rug is a piece of artwork, whether the goal is a contemporary look or a more traditional look. The area rug can contribute one of the largest splashes of color in a room, so it is always best to select the area rug before—or at least at the same time as— choosing upholstery, window treatments and paint, so that everything blends well with the rug.
Elements of a rug design may be incorporated into the overall design scheme. Furniture and furnishings should enhance the color and design of the area rug. A rug with a bold design should not compete with the furnishings, so when making the rug a focal point, be sure to choose chairs and sofas with solid or subdued patterns.
As a rule, light-colored rugs make an area appear more spacious, and deeper colors lend coziness to a room.
One Rug Or Two?
In a very large room, more than one rug can be used to separate the room into smaller, more intimate areas. When using two or more rugs, it's important that the designs of the rugs be different enough to create spatial separation, but similar enough in color, design, size and quality to maintain the integrity of the space.
Fair Trade
Look for GoodWeave certification when purchasing area rugs. GoodWeave International (GWI) is an international, non-governmental organization that works to end child labor in the handmade rug industry and offers educational opportunities to children in South Asia.
The GoodWeave certification program—formerly known as RugMark—provides an assurance that each rug manufacturer has agreed to independent verification and adherence to GoodWeave standards. It also helps consumers purchase from rug makers with similar ethics.
Other Tips
David Mast also recommends:

Not using a busy area rug if the room's color scheme and patterns are busy. Don't over-stimulate the eyes. Create a Zen-like feel.
Keeping the family safe by ensuring rug corners do not extend into high traffic areas or doorways.
Choosing a small patterned rug for smaller spaces to give it the appearance of a larger room.
Using a high-quality underlay to absorb the impact of feet and noise, reduce wear and tear on the rug and make vacuuming easier.
Rotate rugs yearly to even out wear.
Avoiding direct sunlight—most rugs fade like upholstery.
Have area rugs professionally cleaned periodically by a reputable cleaner.
In stairwells, use a rug with a dark pattern that will hide dirt and signs of daily wear and tear
Use calm, soothing tones to create a Zen-like sanctuary in bedrooms.
"We represent a fun and unique line of rugs based on designs created by celebrated Australian designer Florence Broadhurst," said Mast. "Her works were inspired from her travels and theatrical exploits during the 1920s through the 1970s."
For more information about area rug selection or any other David Mast Design product or services—including Bay Area lighting design and landscape design—call (415) 655-3883 or visit the company on the web at http://www.davidmastdesign.com.
About David Mast Design
David Mast Design is a well-respected San Francisco interior design firm that specializes in interiors, lighting and landscape design, customer support for all residential and commercial clients. David and his team of professionals employ a hands-on, active listening approach to help each client conceptualize their unique vision, and then bring it to fruition.
# # #