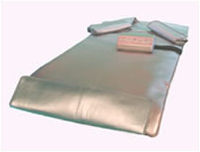 Our clients are amazed by the Sudatonic treatment
San Francisco, CA (PRWEB) September 06, 2011
Body wraps have been used as a cleansing and relaxing treatment since the time of the ancient Egyptians. The basic technique of rubbing herbs and minerals over a person's body, wrapping them snugly, and heating them up to until they sweat has been proven over thousands of years. Now modern science has added some new methods that make body wraps even more effective. San Francisco med spa Venus Bodywork gives an overview of the most cutting-edge body wrap techniques.
Sudatonic is a revolutionary new system from France that uses infrared technology to increase circulation and maximize fat mobilization. Sudatonic creams are applied to the body to add an extra skin barrier, making the body work harder to sweat. At the same time, the patient is wrapped in a blanket that uses FIR infrared ray energy to heat the body and increase circulation. This combination makes the body work hard to detoxify, so it burns calories while lying still in a state of total relaxation.
"Our clients are amazed by the Sudatonic treatment," says Venus Bodywork owner Miria Kutcher. "They find it relaxing and reinvigorating, and can see results right away."
A whole new approach to body wrapping is the CryoTherapy Body Wrap, a South American cooling wrap that tightens and tones skin as it detoxifies. After gently exfoliating the skin, the patient is covered in firming cream and wrapped in cold bandages, which helps the body restore its natural metabolic rate, break down cellulite, and increase circulation. CryoTherapy is especially useful in reducing the appearance of loose, saggy skin. The cold can be uncomfortable, but the results make it worthwhile. Venus Bodywork suggest thinking of it like a challenging workout—no pain, no gain.
"I came in for advice on fitting into a wedding dress and generally for better tone and tightness, and Cryotherapy was recommended," said one Venus Bodywork client. "If you can tolerate the cold, Cryo produced awesome results! And it was also a great deal."
One Venus Bodywork's most popular body wraps is their detox wrap, called the Brazilian Clay, Algae and Dead-Sea Body Wrap, which uses beneficial minerals to hydrate the skin and unclog pores. The heated clay helps relieve joint and muscle aches and stress tension. The wrap is an excellent choice for anyone who has been exposed to sun, wind or was recently sick.
"The mineral clay wrap is meant to stimulate circulation & detoxify, and as such it left me feeling invigorated and relaxed," said Talaitha D.
For more information about body wraps, or any of Venus Bodywork's products or services, call them at (415) 227-4322, view them on the web at http://www.venusbodywork.com or visit them at 862 Folsom Street in San Francisco by appointment.
About Venus Bodywork
Venus Bodywork was founded in 2004 and is a non-traditional spa that specializes in non-invasive weight loss and body shaping treatments from around the world. The med spa offers the women of San Francisco weight loss treatments and liposuction alternatives that produce equally impressive results at a fraction of the cost, risk, and without causing down time. Venus also offers skin care solutions and specialized waxing.
# # #