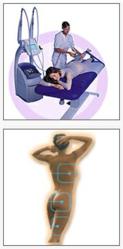 Endermologie is one of the most effective liposuction alternatives available. It visibly reduces cellulite and improves the overall skin texture
San Francisco, CA (PRWEB) October 07, 2011
One of the most popular treatments among regulars at San Francisco med spa Venus Bodywork is Endermologie, a safe, non-surgical, non-invasive technique to reduce cellulite. The technique uses two rollers to stimulate skin, increasing blood flow to problem areas and encouraging release of toxins. Celebrities including Angelina Jolie, Matthew McConaughey, and Jennifer Lopez have experienced the benefits of the relaxing treatment. Right now, Venus Bodywork is offering 10 Endermologie treatments for just $599—a $100 discount off their already low price.
"Endermologie is one of the most effective liposuction alternatives available. It visibly reduces cellulite and improves the overall skin texture," says Venus Bodywork owner Miria Kutcher. "But the best part is that it feels totally relaxing—it's more like a massage than a medical procedure."
The popular French weight loss machine Endermologie uses a special dual-head wand to roll the skin, stimulating cells, increasing circulation and eliminating fatty deposits. The massage motion shrinks fat cells and promotes lymphatic drainage. The treatment stimulates skin cells to produce more collagen and elastin, leading to healthier looking skin.
Other reported benefits include easing of muscle pain and muscle spasms, improved complexion, more vitality, clearer thinking, more restful sleep, and even relief from constipation.
A recent study of the treatment found a 70% increase in activation of lipolysis (elimination of fat), a 240% increase in activation of collagen production (redensification of the skin), and a 160% increase in activation of elastin production.
With so many proven benefits, it's no wonder clients at Venus Bodywork rave about the treatment.
Amanda V. said in a Yelp review that her skin was instantly noticeably firmer, adding, "And not to mention it's super relaxing!"
For more information about the discount on Endermologie treatments or any of Venus Bodywork's products or services, call them at (415) 227-4322, view them on the web at http://www.venusbodywork.com, or visit them at 862 Folsom Street in San Francisco by appointment.
About Venus Bodywork
Venus Bodywork was founded in 2004 and is a non-traditional spa that specializes in non-invasive weight loss and body shaping treatments from around the world. The med spa offers the women of San Francisco weight loss treatments and liposuction alternatives that produce equally impressive results at a fraction of the cost, risk, and without causing down time. Venus also offers skin care solutions and specialized waxing.
###