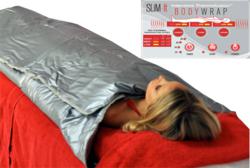 We are excited to add Slim-It Body Wraps to our growing range of services
San Francisco, CA (PRWEB) November 10, 2011
Going all the way back to ancient Egypt, body wraps have long been regarded as a relaxing way to flush toxins from the body and lose weight. Body wraps have traditionally required an attendant to apply creams, wrap up, and control the heat settings. But the new Slim-It Body Wrap is a self-serve infrared body wrap system that features disposable body suits and easy-to-use controls, giving the user a more private, sanitary, and customizable body wrap experience. Costa del Sol, a San Francisco tanning salon, will begin offering Slim-It Body Wraps just in time for the holidays, and is now accepting reservations.
"We are excited to add Slim-It Body Wraps to our growing range of services," says Deneice Holbert of Costa del Sol. "The Slim-It is totally opposite of traditional messy body wraps. Simply apply the firming solution, jump into your disposable suit and wrap yourself in the warm, temperature controlled infrared blanket. Relax, detoxify your system, tighten skin, reduce the appearance of cellulite and burn up to 1400 calories per session."
The Slim-It Intensive Thermofusion Body Wrap is a premium heat blanket that uses carbon micro wires to evenly heat the flexible plastic and vinyl exterior. Depending on the user's particular goals, three body zones can be set to the desired temperature (120°, 140° or 160°).
Each user wears a Disposable Slim Suit, made of thin material designed to enhance ambient heat, raise the core body temperature, and trap perspiration, raising the humidity level and making the body work even harder to cool off, which burns extra calories.
With its disposable body suits and easy-to-clean blanket materials, Slim-It is more hygienic than traditional body wrap systems, creating a worry-free user experience.
Costa del Sol will introduce the service on November 17th, and is accepting reservations now. The introductory rate is only $39 per session.
For more information about body wraps, or any of Costa del Sol's products or services, call them at (415) 529-4249, visit http://www.costadelsoltanning.com/, or drop by their salon, located at 1426 California Street in Nob Hill.
About Costa del Sol Tanning Salon
Costa del Sol Tanning Salon is a San Francisco tanning salon that offers a variety of tanning packages designed to meet everyone's needs. Costa del Sol features four levels of traditional UV beds, and also offers custom hand-applied airbrush tanning by Infinity Sun. Costa del Sol's dedication to providing the latest tanning salon services in private rooms to ensure comfort and relaxation makes the salon one of the top spots to get the perfect UV or airbrush tan in San Francisco.
###