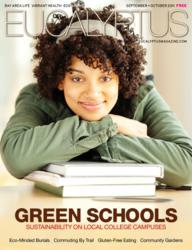 I am looking forward to teaming up with power-bloggers, showcasing their work, and reaching new audiences
Los Gatos, CA (PRWEB) October 18, 2011
Eucalyptus magazine, the only lifestyle magazine that focuses exclusively on health, wellness and green living in the San Francisco Bay Area, will be forming partnerships with 20 to 30 established local bloggers. Partner blogs will be featured in the magazine and on the website, eucalyptusmagazine.com, and will be part of an annual PR campaign. The partnerships will be announced on January 1st.
People who are actively blogging in the areas of healthy and sustainable living are encouraged to apply. Some of the desired categories include: health (both alternative and traditional); wellness (mind/body work, sports, coaching, massage, etc.); green lifestyles (home, office, sustainablility, family, common sense approaches and tips—no greenwashing); and food and supplements (healthy eating and cooking, organic, natural, juicing, local food, farmer profiles, etc.). Blogs promoting "local way of living" are also encouraged to apply (i.e. promoting shopping locally, promoting local business and local food).
Blogs and bloggers must meet specific criteria; namely, they must be published for at least 18 months, updated a minimum of twice per month (ideally weekly), and have a proven captive audience. Ideally, the writers will be located in Northern California.
"I am looking forward to teaming up with power-bloggers, showcasing their work, and reaching new audiences that are interested in living healthy and eco-friendly lifestyles," said Michaela Marek, publisher and founder of Eucalyptus.
Bloggers can apply on http://www.eucalyptusmagazine.com/bloggers. The deadline to apply is November 20, 2011.
No phone calls, please.
About Eucalyptus
Eucalyptus is the San Francisco Bay Area's resource for green and health-conscious lifestyles. Through the print publication, website and networking events, Eucalyptus shares knowledge and inspires readers to celebrate their health, support local businesses and surrounding communities, and protect the environment. Since its first publication in 2009, Eucalyptus has been well-received by the health-conscious and green living community and industry. Eucalyptus is the winner of the 2010 Apex Awards for Publication Excellence for green publications and the 2010 Gold MarCom Award for green publications. The magazine is available at over 350 locations in the Bay Area and online at eucalyptusmagazine.com.
###