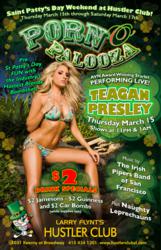 San Francisco, CA (PRWEB) March 14, 2012
Enjoy $2 Guinness Draught, Jameson Irish Whiskey and Irish Car Bombs while taking in first class entertainment by porn sensation Teagan Presley, the Hustler Honeys, the Irish Pipers Band of San Francisco and Naughty Leprechauns this St. Patrick's Day Weekend. The nonstop event, called Porn O'Palooza, takes place from Thursday, March 15th until Saturday, March 17th at Larry Flynt's Hustler Club, located on Kearney Street at Broadway in North Beach.
In her young career, Teagan Presley has starred in over 50 adult DVDs and earned numerous awards, including a FAME award for Favorite Ass and an AVN Award for Best Solo Scene for her performance in Not Bewitched XXX. Her jaw-dropping curves, acting skills and business savvy—not to mention her famous anus—have led to her appearance on over 100 magazine covers and in shows like HBO's Entourage and the hit film Superbad.
Presley is sure to deliver arousing performances when she hits the stage at the San Francisco gentlemen's club at 11 pm and 1 am on Thursday, March 15th. In between, guests will enjoy performances by the always spectacular Hustler Honeys. On St. Patrick's Day, Saturday, March 15, guests will enjoy performances by the legendary Hustler Honeys, the Irish Pipers Band of San Francisco and Naughty Leprechauns.
The Irish Pipers Band of San Francisco was formed in 1932 and is the oldest continuously active Irish Pipe Band west of the Mississippi River. Original members of the band were Irish immigrants who wanted to maintain the piping traditions of their native land. The band was a charter member of the Pacific Coast Pipe Band Association.
The Irish Pipers played at the opening of the Golden Gate Bridge, at the groundbreaking ceremony for the United Irish Cultural Center, and at the charter meeting for the founding of the United Nations. They have also performed on national television with Gene Kelly, and in more recent years, on stage with the Chieftains.
The Hustler Club will also present the Naughty Leprechauns, although officials at the club are keeping tight-lipped about any details.
For more information about the San Francisco Hustler Club's Porn O'Palooza, call (415) 529-4132, visit http://www.sanfranciscogentlemensclub.com, or go to 1031 Kearny Street in San Francisco.
About The Hustler Club
The Hustler Club is an upscale and welcoming San Francisco pole dancing and adult entertainment venue. The club is home to the gorgeous Hustler Honeys, nonstop after-hours entertainment, and a wealth of VIP services for special occasions including San Francisco bachelorette parties and bachelor parties.
Lunch hour guests can enjoy a free lunch buffet from 11:30 am to 2 pm every Thursday and Friday, $2 drinks every Tuesday and Wednesday and free limousine service.