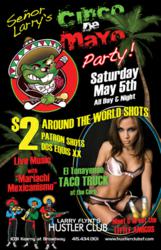 San Francisco, CA (PRWEB) May 03, 2012
Bay Area party people are invited to celebrate Cinco de Mayo with an entire day and night of sexy entertainment at Larry Flynt's world famous Hustler Club in San Francisco. The tequila-fueled fiesta begins on Saturday, May 5 at 11:30 am and doesn't stop until 6 am the next morning.
Hot Hustler Honeys will deliver nothing but the best in nonstop shaking, shimmying and pole dancing at this San Francisco gentlemen's club, while guests gulp $2 Dos Equis XX Cerveza and $2 Patron Ultra Premium Tequila. Cover is $15 all day and $20 after 2 am.
Petite partners in chaos, the Little Amigos, will keep the Cinco de Mayo fiesta hopping by feeding party-goers tequila and wreaking havoc on the place. El Tonayense Taco Truck will be parked at the curb, dishing out delicious Mexican munchies to satisfy those late-night cravings.
Mariachi Mexicanismo will be mixing up a special blend of traditional Mexican folk music and modern dance beats to keep hips shaking throughout the nonstop celebration.
To top it all off, celebrity guest Mickey the Baboon will be getting his party on at the Hustler Club as well. This fun-loving primate will give guests a Cinco de Mayo to remember before he hits the silver screen this summer with a role in the movie Rock of Ages.
For more information about the San Francisco Hustler Club's Cinco de Mayo celebration, call (415) 434-1301, visit http://www.hustlerclubsf.com or stop by 1031 Kearny Street in San Francisco located in the heart of North Beach.
About The Hustler Club
The Hustler Club is an upscale and welcoming San Francisco pole dancing and adult entertainment venue. The club is home to the gorgeous Hustler Honeys, nonstop after-hours entertainment, and a wealth of VIP services for special occasions including San Francisco bachelorette parties and bachelor parties.
Lunch hour guests can enjoy a free lunch buffet from 11:30 am to 2 pm every Thursday and Friday, $2 drinks every Tuesday and Wednesday and free limousine service.