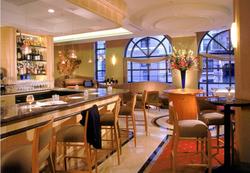 San Francisco, CA (PRWEB) October 29, 2010
Daffodil Restaurant is changing its wine program to focus on California wines and needs to clear out the cellar. Restaurant-goers benefit from low prices on international wine until it's gone. Bargains include:
2001 Giuseppe Cortese, Barbaresco - was $117, now $67
2003 Domain Fede, Margaux Appellation Bordeaux Region - was $88, now $48
2005 Serraboella, Barbera D'Alba - was $66, now $42
2000 Prunotto, Barolo - was $145, now $68
2004 Castellare Di Castellina, Chianti Classico - was $58, now $35
These fine wines complement an affordable, grand dining experience in a setting that includes paintings by local San Francisco artists gracing the walls and arched floor-to-ceiling windows with views of bustling Bush Street. A glass-walled, private dining room that features beautiful displays of one-of-a-kind wines can accommodate up to 24 guests.
About Daffodil Restaurant
Daffodil San Francisco Restaurant, located in the Orchard Hotel at 665 Bush Street at Powell Street, offers hotel guests and locals a delicious budget-friendly Union Square dining experience. The Bar is a relaxing spot to meet friends or business associates.
Guests are invited to stop by Happy Hour – each day from 3:30 to 7pm – to relax over daily appetizer specials, fine wines by the glass and specialty cocktails. Breakfast is served from 6 to 10am weekdays and 7 to 11am on weekends and holidays. The Bar is open from 3:30pm daily; Dinner service begins at 5:30pm daily.
For more information please call 415-343-0130 or visit their website: http://www.thedaffodilrestaurant.com.
# # #