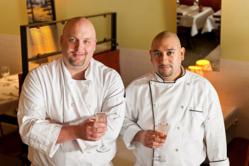 Thanksgiving at our San France-isco seafood restaurant is always a special event.
San Francisco, CA (PRWEB) November 19, 2011
Hailed as one of the best seafood restaurants in San Francisco, Plouf Seafood Bistro is the renowned European-style café on charming Belden Place that specializes in French cuisine with Frisco flair. On Thanksgiving Day, from 5:30 to 10:00 pm, Plouf will serve from a special menu, created for the occasion by Executive Chef Mark with assistance from sous-chef Israel Palestino.
"Thanksgiving at our San France-isco seafood restaurant is always a special event," said Erik Klein," co-founder of Plouf. "There is something for everyone on the menu."
This year's Thanksgiving dinner menu at Plouf includes:
OYSTERS
Oysters on the half shell, mignonette
Baked oysters Rockefeller, creamed spinach, bacon, caramelized onion, breadcrumbs
Cornmeal crusted fried oysters, chopped salad, tarragon aioli, Tabasco butter
MUSSELS
Plouf: pastis, cream, shallots, roasted garlic, chili flakes and fine herbs
Mariniere: shallots, lemon, white wine and parsley
Provencale, heirloom tomato broth, shallots, basil, crispy garlic
Coconut broth: lime juice, garlic, cilantro, chili and coconut milk
Anchor Steam beer: leeks, garlic, shallots, croutons, fine herbs
Poulette: shallots, bacon, white wine, cream and parsley
Steamed combo: Prince Edward Island mussels and Manila clams
SALADS and APPETIZERS
French onion soup, crostini, melted gruyere cheese
Baby lettuces, shaved radish, walnuts, goat cheese, fine herbs, balsamic vinaigrette
Roasted beet endive salad, blue cheese fondu, egg, walnuts, lemon vinaigrette
Veal sweetbreads salad, pearl onions, croutons, grain mustard vinaigrette
Citrus scallop ceviche, kumquat, cilantro leaves, red Fresno chili, grilled toast
Bison tartar, shaved horseradish, capers, parmesan cheese, quail egg, crostini
Duck liver pate, red wine syrup, figs, winter chicories, crostini
FISH ENTREES
Local swordfish, artichokes, fingerlings, leeks, celery root purée, truffle vinaigrette
Scallop linguine, winter squash, roasted garlic, pomegranate, sage pesto, lemon
Pacific sea bass, braised leek potato purée, pole beans, chanterelle mushrooms
Local chili roasted Dungeness crab, quinoa pilaf, winter spinach, tarragon aioli (full or half)
MEAT and OTHER ENTREES
Coq au vin, roasted French sugar pumpkin, pearl onions, baby carrots, natural jus
Roasted turkey breast, confit leg, cornbread stuffing, mushroom sage gravy, cranberries
Slow roasted rack of lamb, baked macaroni, roasted figs, chard, rosemary pesto
Filet au poivre, black kale, marble potatoes, creamed chanterelle demi
Dry aged prime bone in double cut rib eye for two (32oz)
Marble potatoes, root vegetables, mushrooms, horseradish, fromage blanc, natural jus
SIDES
Pommes frites (extra charge for truffle oil and parmesan)
Baked macaroni and cheese, truffle
Sautéed Brussels sprouts, Tasso ham, lemon
About Plouf Seafood Bistro
Plouf Seafood Bistro, located in the Financial District, is one of San Francisco's best seafood restaurants. Plouf specializes in mussels, oysters, unique appetizers, salads, seafood dishes, and meats. "Plouf" is the sound a stone makes when it drops into a French stream. Chef Mark Papedis studied cooking in at the California Culinary Academy in San Francisco, cooked at the Ahwahnee Dining Room in the world-famous Ahwahnee Hotel in Yosemite National Park for three years, and served as sous-chef at Wente Vineyards in Livermore for five years before becoming executive chef at Plouf.
For more information about Thanksgiving at the premier downtown San Francisco seafood restaurant, please call (415) 986-6491, go to http://www.ploufsf.com or come to the restaurant located at 40 Belden Place in San Francisco.
# # #