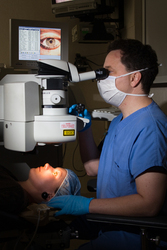 Top Doctors in the Bay Area
Palo, Alto, CA (PRWEB) August 26, 2009
Trusted LASIK Surgeons is pleased to announce that Dr. Edward Manche of the Stanford Laser Eye Center of the Stanford University Medical Center, has met the screening criteria set by Trusted LASIK Surgeons and has been listed in the Trusted LASIK Surgeons Directory, an informational resource for consumers looking for treatment of their vision problems. The Stanford Eye Laser Center and Dr. Manche serves the San Jose and Bay Area in Northern California, including Palo Alto, Santa Clara, San Jose, Mountain View and San Francisco.
Expert Vision correction surgeons like Dr. Manche are screened based upon experience, premier patient care, and professional credentials. We estimate his professional contributions and accomplishments place him among the top 1% of LASIK Laser Eye and refractive surgeons in the United States. The most significant professional achievements that differentiate Dr. Manche apart from nearly all other LASIK Surgeons are his experience as a principal investigator for 7 FDA studies for laser manufacturers and pharmaceutical companies, his faculty appointment at the Stanford University Medical School where he serves as a Professor of Ophthalmology and Chairman of the Ophthalmology Credentialing Committee, as well as his extensive research and teaching contributions to the advancement of refractive eye surgery.
Edward Manche, M.D., has performed over 30,000 LASIK and laser vision procedures and has over 15 years in refractive surgery procedures beyond LASIK surgry, such as lens implants. Dr. Manche has proven high level of expertise that patients seeking vision correction can rely upon with confidence. He has also authored over 20 textbook chapters, published over 75 articles for major peer-reviewed ophthalmology journals, and made over 300 presentations at major eye meetings worldwide. His numerous accomplishments in the field of refractive surgery have earned him the respect of his fellow ophthalmologists both in the United States and abroad.
Patients who are nearsighted (myopic), farsighted (hyperopic), have blurred vision from astigmatism, or have trouble reading (presbyopic) can expect expert advice and treatment when they visit Dr. Manche at the Stanford Eye LASER Center. Dr. Manche offers a complete range of refractive surgery options, including LASIK and PRK (laser surgery), lens implants, conductive keratoplasty, phakic implants, and limbal relaxing incisions. The Stanford Laser Center provides premier patient care by using the IntraLase system for "All-Laser" or "Bladeless" LASIK, Wavefront Based ("Custom") LASIK and PRK, and the iLASIK procedure, which includes WaveScan Technology, IntraLase, and Visx Advanced CustomVue treatments. Patients who have had significant problems with LASIK or another vision correction procedures performed by another surgeon have come to Dr. Manche to manage their treatment. In addition, other eye doctors have chosen Dr. Manche to perform their LASIK or other refractive surgery procedures.
Dr. Manche is certified by the American Board of Ophthalmology and is an active member of the American Academy of Ophthalmology, who has honored him with an Achievement Award, the International Society of Refractive Surgery, and the American Society of Cataract and Refractive Surgery. In addition, Dr. Manche is active in local medical societies like the California Ophthalmology Association and serves on the editorial board of Journal of Refractive Surgery and Journal of Ophthalmology.
Dr. Edward Manche, M.D. has been named among "America's Top Doctors" by Castle Connolly Medical Ltd, "Top Doctors in the Bay Area" by San Francisco Magazine, "America's Top Ophthalmologists" by Consumers' Research Council of America, Top Doctors in Silicon Valley by San Jose Magazine, and the "Best Doctors" in America. In addition, Visx (a laser manufacturer) gave him a VISX Star Surgeon rating, naming him one of the Top 50 LASIK Surgeons in the United States
"Dr. Manche has been a prolific investigator of laser systems for vision correction in multiple FDA studies and he is one of the most experienced LASIK surgeons in the United States," noted Dr. James J. Salz, CEO of Trusted LASIK Surgeons. "He has contributed numerous important articles on all aspects of refractive surgery and has been an invited lecturer at hundreds of meetings worldwide. As the head of the refractive surgery department at Stanford University for many years, Ed has been a leader in research for vision correction. We are extremely pleased to have a surgeon of Dr. Manche's caliber join Trusted LASIK Surgeons".
"One of the nicest things about this job is being able to have such a profound impact on people's lives so quickly," said Edward Manche, M.D., of the Stanford Laser Center.
Visit San Jose and Palo Alto LASIK Surgeon profile page of Dr. Edward Manche at Trusted LASIK Surgeons
To contact Dr. Manche's office directly, please visit:
Contact Dr. Ed Manche at the Stanford Laser Center serving Palo Alta and San Jose communities in California
For more on why consumers should consider surgeons listed in the Trusted LASIK Surgeons directory for their vision correction needs, please visit:
Why choose a Surgeon from the Trusted LASIK Surgeon's Directory
The screening process and standards used by Trusted LASIK Surgeons are located at: How Are LASIK Surgeons Qualified at Trusted LASIK Surgeons?
To find a highly accomplished LASIK and refractive specialist in your local area who has been qualified and listed in the Trusted LASIK Surgeons directory, please visit Trusted LASIK Surgeons Directory
About Trusted LASIK Surgeons, Inc.
Trusted LASIK Surgeons, Inc. (Trusted LASIK Surgeons) is a premier LASIK, laser eye surgery, refractive eye surgery Lens implant and Cataract surgery directory service whose primary mission is to assist consumers in finding the best and most qualified LASIK and vision correction surgeons in their local area in the United States. To accomplish this, Trusted LASIK Surgeons uses a unique screening process where each prospective LASIK eye surgeon must meet the minimum required qualifications set by Trusted LASIK Surgeons. These qualifications for these doctors are based on experience (not just in LASIK but complete refractive care), research (including FDA approval studies for manufacturers and academic appointments at major universities), publications and lectures (to their peers, not to the public via infomercials) and patient care standards (treating other eye professionals and managing complications from patients first operated on by someone else). All refractive eye surgeons listed at Trusted LASIK Surgeons have qualified, been accepted, and have subscribed to our services. For more information on why we believe consumers interested in LASIK should consider an eye surgeon listed in the Trusted LASIK Surgeon's directory, please visit our website at http://www.TrustedLASIKSurgeons.com.
Trusted LASIK Surgeons
(800) 483-8028
news at TrustedLASIKSurgeons.com
About Stanford Eye Laser Center
Stanford University Medical Center has over a century's heritage of innovation and care. The Stanford Eye Laser Center is an integral part of that heritage, committed to the safest and most advanced techniques for correcting vision. Vision that is less reliant on traditional correctional methods such as glasses and contact lenses means greater mobility, freedom and safety--and the Stanford Eye Laser Center is a leader in the technology that makes such unhindered vision possible. When it comes to something as important as your vision, there should be no compromise in the level of medical expertise you devote to it. Dr. Edward Manche and the Stanford Eye Laser Center staff wish to provide you with all the information you need to determine whether laser vision correction is right for you. To view Dr. Manche's profile, please visit: http://eyelaser.stanford.edu.
Stanford Eye Laser Center
900 Blake Wilbur Drive Room W3002
Palo Alto, CA 94304
Appointments and Information
(650) 498-7020
SOURCE: Trusted LASIK Surgeons
###