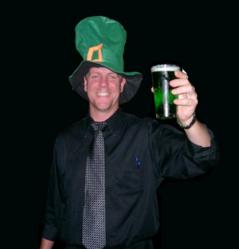 What better way to celebrate this 'green holiday' than with a green beer and some traditional corned beef and cabbage.
Sunnyvale, CA (Vocus/PRWEB) March 15, 2011
Faultline Brewing Company Restaurant in Sunnyvale is hosting its 3rd Annual "Lucky Pot of Gold" St. Patrick's Day Celebration during the week of March 14 to 18 from 11:30 am to 9:30 pm. The week-long event will feature green beer, food and drink specials, live music and giveaways.
"What better way to celebrate this 'green holiday' than with a green beer and some traditional corned beef and cabbage," said Christa Shaw, general manager of Faultline Brewing Company.
Monday March 14 will feature a "Beer Makes it Better" special, with an extended happy hour from 3:30 pm until closing. On Tuesday, Faultline will have "$2 Off Tuesday" for all appetizers in the bar. "Customer Appreciation Day" will be held on Wednesday and will include a special surprise for every Faultline Brewing Company customer.
During the celebration of St. Patty's Day on Thursday, March 17, customers of the San Jose bar will be able to participate in a "Lucky Pot of Gold" coin pull, where if they spend $50 they pull a coin from a pot gold that gives them a chance to win food and drink discounts, t-shirts, or even a $100 Faultline gift card. Live musical performances are also planned.
Faultline Brewing Company will wrap up their "Lucky Pot of Gold" celebration by offering "Feed Your Hangover" Friday discounts of 20% on all food items from the St. Patty's Day menu.
Faultline is also introducing its newest beer "Irish Red." The first-time brewed beer for Faultline is a medium-bodied amber that is flavorful, yet easy drinking. The traditional Fuggle hops used to make this beer have been slightly subdued to let the malt flavors stand out. Crystal and Munich malts give this beer an initial caramel sweetness, but the black malt and a mild dose of hops result in a slightly dry, roasted aftertaste. This beer is bound to be a customer favorite, but it is only here for a few weeks so get down to the Faultline soon... or miss out!
For more information about the Lucky Pot of Gold celebration or any of Faultline Brewing Company's services, call them at (408) 736-2739, view them on the web at http://www.faultlinebrewing.com, or visit them in person at 1235 Oakmead Parkway in Sunnyvale.
About Faultline Brewing Company
Faultline Brewing Company is a brewery and restaurant in Sunnyvale that features over 20 hand-crafted beers and delicious Bay Area dining. They first opened their doors in December of 1994 and have been supplying Silicon Valley with their award-winning beers ever since.
The bar is equipped with 17 large flat screen TVs, making it one of the most popular San Jose sports bars. Faultline Brewing Company also hosts several fundraisers and donates to many schools and charities, including the American Cancer Society, Health Trust, Dining Out For Life, Special Olympics, and the Sunnyvale Public Safety Officers Association.
# # #