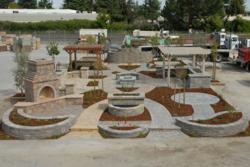 Adding these services is another way to set ourselves apart from our competitors as a truly full service operation.
San Jose, CA (PRWEB) December 29, 2011
In todays troubled economy, it's not easy to run a small business. Victor Armendariz, owner of Interlocking Pavers Specialist in San Jose knows this as well as anyone. Since 1993 he's worked hard to build his hardscape business with a dedication to honesty and top quality work. That dedication has paid off as his business now enters a new era in 2012, adding more services to the company's capabilities.
Already known for excellence in interlocking paving stones for driveways, patios, and gardens Armendariz is adding concrete and masonry to his lengthy list of capabilities. This rounds out his company as a one-stop provider for outdoor design.
Like many interlocking paver installers, Victor has been extolling the virtues of pavers over concrete and asphalt for years, Victor isn't changing his tune. "Interlocking paving stones are incredibly versatile and durable, and are a great solution for many hardscape applications, but it doesn't fit every situation."
The move to add to their services became obvious as clients asked for more than they were offering after seeing their work. "It just seemed like the next logical step for our business", says Armendariz, who has been doing services in concrete and masonry for years, but hasn't been actively marketing it. "Adding these services is another way to set ourselves apart from our competitors as a truly full service operation."
Standing above the crowd is important, as the hardscaping industry is becoming more and more prolific each year, though it should be easy for Victor to take his place. Interlocking Pavers Specialist is rated A+ by the Better Business Bureau and their customer base on Yelp has nothing but good things to say about their service.
About Interllocking Pavers Specialist
Interlocking Pavers Specialist was launched by Victor Armendariz in 1993, and has since expanded into a full service outdoor design and hardscape company. Known for excellence in interlocking pavers, IPS also offers demolition, excavation, retaining walls, outdoor fireplaces, water features, masonry and stonework, grading, concrete, and more. Highly rated and recognized as leaders in their field, they service San Jose and the South Bay Area in California.
###