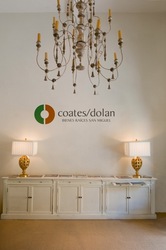 We are delighted to be opening an office in the heart of San Miguel de Allende
(PRWEB) December 12, 2009
The Coates/Dolan residential real estate group is opening a new office this week on Sollano 16 in the center of San Miguel de Allende. The sales office will showcase some of the most beautiful luxury homes for sale in San Migue l.
"We are delighted to be opening an office in the heart of San Miguel de Allende to better serve our customers," says sales manager Nancy Howze. "We will maintain our sales office at Vista Antigua, but the focus of our downtown office will be residential sales."
A restored colonial at Sollano 16 is the new location for the Coates/Dolan sales team. Sollano 16 is home to The Restaurant and home decor boutique, Sollano 16. Sollano 16's design team worked closely with the Coates/Dolan group, selecting the furnishings and preparing the offices for Coates/Dolan.
"We couldn't have asked for a better design team to work with! The Sollano 16 style with elegant furniture and accessories are the perfect complement to the types of homes we represent in San Miguel," says Nancy Howze.
Coates/Dolan represents more than 100 homes in the San Miguel de Allende ranging in price from the mid-$200s to over $6 million USD. Their sales team of friendly professionals have more than 50 years combined experience in the San Miguel de Allende real estate market representing sellers and helping buyers find the perfect home to buy or location to build a new home in San Miguel de Allende.
About Coates/Dolan
Coates/Dolan has over 50 combined years of high-end residential and commercial development, property management and marketing experience in some of North America's most desirable resort markets including San Miguel de Allende and Puerto Vallarta in Mexico, and Aspen, Breckenridge and Snowmass in Colorado. The company strives to provide its customers with leading-edge architectural and construction technologies, the application of international construction and design standards in local markets, and a complete range of services from land acquisition to property development. For further information, visit http://www.coatesdolan.com.
###