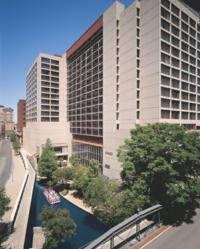 San Antonio, TX (PRWEB) October 18, 2011
Visions of sugarplums will dance right out of guests' heads, once they feast their eyes on the magical holiday masterpieces crafted from chocolate and gingerbread by award winning Grand Hyatt San Antonio's Pastry Chef Daniel Keadle. His mouth-watering creations will once again honor Hyatt's three charity partners: San Antonio Public Library Foundation, San Antonio Humane Society and Operation Home Front, and will be on display from Wednesday, November 23 to Monday, December 26, in both Hyatt Regency and Grand Hyatt lobbies.
Sweeter still is Hyatt Regency San Antonio's holiday/anniversary rate where, from December 9 to December 27, guests can see Keadle's creations while staying at Hyatt Regency for only $81 per night!
A Premiere Presentation
For the past three years, Keadle has captured Hyatt's holiday spirit using his favorite medium, chocolate. This year, he is taking the process to an entirely new level through innovative techniques and new materials.
"Our goal this year is to update the appeal of our edible sculptures by changing things up a little bit,'" he explains. "We are known for our chocolate work so we want to expand our horizons."
Keadle's holiday wish list for making his realistic creations might require Santa to do some heavy lifting! To begin with, he requires 200 pounds of chocolate. He will be incorporating both dark and white, with white being the dominant confection.
"The designs will be about 70/30 white chocolate because it creates more contrast," says Keadle, adding that he prefers to carve white rather than dark chocolate.
To that he will add approximately 100 pounds of sugar, 100 pounds of gingerbread, and 100 pounds of assorted candies and custom made figurines. Notably absent is butter and cream—both of which made the "naughty list."
"These items are good for plated desserts and confections, but not for sculptures that need structural integrity and a long shelf life at room temperatures," Keadle explains.
Once his wish list is filled, Keadle will begin assembling the sweet stuff, using a variety of innovative combinations and techniques to achieve the desired results. He will be incorporating more of the sugary pastillage that, once dry, gives the appearance of porcelain, and implementing a new technique that involves carving it while it is still frozen. This allows Keadle to wield his carving tools, much the way an artist would his paintbrush, creating realistic, intricate details in the end result.
A Treat for the Senses
As in year's past, Keadle's sculptures will be an artistic interpretation of Hyatt's charitable partners, as well as a representation of the two distinct Hyatt properties themselves. Hyatt Regency San Antonio's focal point will be the holiday gingerbread BBQ smokehouse in homage to the hotel's Q Restaurant, while Grand Hyatt's display will incorporate Asian sushi into its gingerbread design in tribute to the San Antonio luxury hotel's restaurant specializing in fusion cuisine. Both will include the other charitable elements from books to pets and military themes.
"It will be a visually memorable experience," Keadle says.
While sight and smell are evident in the lobby, the other sensory pleasures take place in the preparation, with one of the most important being touch—but not with your hands please, Keadle is referring to creative touch!
"Touch is not for chocolate," says Keadle, explaining that the oil on the hands leaves a residue that is not only noticeable; it can shorten the shelf life of the chocolate. That is why, Keadle says, that an artisan must rely on his other senses to tell him if the chocolate has been properly handled and tempered. He can use sight, for example, to gauge the brilliance and taste to determine what those in the industry refer to as "mouth feel."
Being Present Is Best Present at San Antonio's Downtown Hotels
Hyatt handles all aspects of its holiday celebrations with care—not just the creation of chocolate! One of the most caring events at the San Antonio luxury hotels is the holiday story time, because there is no better way to be present with children than by spending time reading to them.
This year's holiday story times will take place at Grand Hyatt Wednesday, Dec. 14 and 21 at 11 a.m. Children of all ages are invited to snack on holiday treats and hear holiday tales such as "Santa Duck," and "The Twelve Days of Christmas," read by "Santa Paws" and KONO 101 celebrity Dave Rios.
After story time, stop by Hyatt Regency and select an angel off of the Angel Tree for Operation Homefront. Giving, sharing, reading and spending time together—isn't that what the season is all about?
About Grand Hyatt San Antonio
Grand Hyatt San Antonio is a premier destination in the heart of downtown. The 1,003-room, 37-story luxury hotel, with 115,000 square feet of indoor/outdoor meeting space, is adjacent to the Henry B. Gonzalez Convention Center and famed San Antonio Riverwalk. The hotel also includes a fully equipped 24-hour StayFit@Hyatt gym with heated outdoor lap pool, Perks Coffee and more. At the Grand Hyatt San Antonio guests will find a unique blend of location, amenities and service to make their stay unforgettable. For more information on Grand Hyatt San Antonio, Achiote River Café or Bar Rojo please call (210) 224-1234 or visit http://grandsanantonio.hyatt.com.
About Hyatt Regency San Antonio
Hyatt Regency San Antonio is one of the Alamo City's most luxurious downtown hotels. The AAA Four Diamond property is uniquely situated on the famous San Antonio Riverwalk with a premier view of the historic Alamo, connecting two of the city's top destinations through the hotel's 16 story atrium lobby. Guests can enjoy unsurpassed Hyatt service and amenities from swimming in the heated rooftop pool to indulging in the pampering services of the DASA spa or exercising in the 24-hour Stayfit gym. Texas style cuisine and stylishly chic guest rooms make Hyatt Regency one of San Antonio's premier destination hotels. For more information and reservations, visit http://www.hyattregencysanantonio.com or call 210.224.1234.
# # #