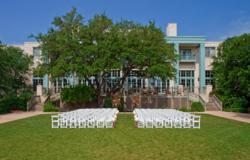 Every girl has dreamed about becoming a princess and now we are giving them the chance to live out that dream
San Antonio, Texas (Vocus/PRWEB) March 14, 2011
Move over William and Kate, Hyatt Regency Hill Country is crowning their own royalty. The hotel is offering couples the "Hyatt Hill Country Royal Wedding Package" – which includes everything from a full horse-drawn carriage procession to a bachelorette's high tea.
"Every girl has dreamed about becoming a princess and now we are giving them the chance to live out that dream," said the San Antonio resort's wedding coordinator, Deanna Zuber. "It allows them to get a glimpse of what it's like to be royalty."
Partnering with local San Antonio businesses, the package includes an abundance of flowers for the ceremony and reception, a string quartet, a live band with the couple's choice of music, a horse-drawn carriage ride to and from the ceremony, full, high-end photography and videography, an hour with a couture wedding dress consultant, and a one-on-one wedding cake consultation with Texas Hill Country resort's award-winning pastry chef, Lou Venditti.
For the bachelorette party, a one of the resort's meeting rooms will be transformed into a lavish high tea. Complete with floral centerpieces and light, crème-based colors, the bride and her bridesmaids will spend a relaxing, memorable afternoon sipping tea, while the "lads" are off participating in a Royal Groomsmen Golf Tournament. The tournament will be held at the on-site Hill Country Golf Club, to be followed with "pints" at the resort's Cactus Oak Tavern, the golf club's "19th hole".
The day of the wedding, the bride will receive a "Princess Makeover" at Windflower – the Hill Country Spa, the hotel's full service spa and salon. The bride will receive full make-up application and hair styling, as a well as manicure and pedicure. The groom will also be treated to a deluxe-shave and hair styling.
When the big moment comes they will both be delivered via horse-drawn carriage to the Fredericksburg Ballroom, for an extravagant marriage ceremony. The ballroom will be filled with dramatic floral accents, elegant seating arrangements, and soft, intimate lighting, all while a string quartet softly plays in during the procession.
After the ceremony the couple will be whisked away to the Roger-Wiseman Pavilion where they will be met with a live band, which will play the newlywed's favorite songs. The wedding party will be served an exquisite five-course meal, prepared by the hotel's executive chef and Hyatt Hotel's Chef of the Year, Troy Knapp. Afterwards the bride's wedding cake will be revealed.
The overnight package includes accommodations for the bride and groom in the Sunday House, a two-story, private guest residence. The Sunday House will serve as the happy couple's private retreat and is equipped with a full-kitchen, front and back porch, a spacious backyard, and an enclosed white picket fence.
The Sunday House's back lawn is the setting for the day-after elegant brunch for the wedding party. Picture an English countryside, grassy buffet style brunch. A string quartet sets the ambiance, for this understated and highly unique event.
Following the royal English wedding tradition, decoration will be kept simple and regal, with a touch of sophistication - from the white linen tablecloths to the uncomplicated floral centerpieces.
We really wanted to capitalize on the public's frenzied interest in the wedding of Prince William and Kate. There's this sense of grandeur and mystery and that's what we hope to capture and provide for our couple's here. Our resort is perfect for that escape, the Hyatt Regency Hill Country will feel like your own personal castle," Zuber said.
Prince William of Wales, who is second in line to succession of Queen Elizabeth II, is set to marry Kate Middleton on April 29, 2011 in a ceremony at Westminster Abby. Their engagement and future wedding have captured the world's attention, reminiscent of the public's fascination with the wedding of his mother Diana, Princess of Wales to Charles, Prince of Wales back in 1981.
The Hyatt Regency's Royal Wedding Package accommodates a wedding party of 50 people, including attendants and guests. Packages start at $50,000, for more information on the "Hill Country Royalty Package" call Deanna Zuber at 210-520-4006.
About the Hyatt Hill Country
The Hyatt Regency Hill Country Resort and Spa is located on 200-scenic acres in the heart of San Antonio and features 500 guestrooms, 58 suites and 33,000 square feet of meeting space. With four restaurants, a lounge and coffee bar, guests can enjoy superb epicurean dining or cocktails with colleagues overlooking a lushly landscaped 27-hole Arthur Hills-designed golf course. For reservations or information contact The Hyatt Regency Hill Country Resort and Spa at 210.647.1234 or visit us at http://www.hyattregencyhillcountry.com.
###