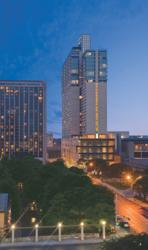 The city is like one big playground, and the two downtown Hyatt properties are the ideal "home base" with their convenient locations and inclusive summer vacation packages.
San Antonio, TX (PRWEB) July 27, 2011
Theme parks, museums, theatres, picturesque golf courses and the famous River Walk are just a few of the attractions that draw thousands of families to San Antonio every year. The city is like one big playground, and the two downtown Hyatt properties are the ideal "home base" with their convenient locations, and inclusive summer vacation packages at the San Antonio hotels that make staying and playing easier than ever.
Family Friendly Fun at Hyatt Regency San Antonio
The family that stays together should play together, and Hyatt Regency is offering plenty of family fun activities to keep everyone entertained. Families can test their teamwork, as well as see the sites of downtown San Antonio, by taking part in a good old-fashioned Scavenger Hunt. A scavenger map is available at either the concierge or the hostess stand at Q. Families that are able to solve all the clues and find each historic San Antonio attraction, will be rewarded with a 25% off gift certificate for lunch or dinner at Q on the Riverwalk.
While dining at Q, both the young and young at heart will want to take advantage of the Build Your Own Cupcake station. Pile a homemade cupcake high with icing and sprinkles and then enjoy feasting on your creation.
Friday and Saturday nights at Hyatt Regency are Movie Nights. Beginning at 8:00p.m., family-friendly films will be shown in the Chula Vista room at Q, with plenty of complimentary refreshments on hand.
Both Hyatt Regency and Grand Hyatt make it easy and affordable to enjoy your family vacation by offering a Kids Eat Free program. For every adult meal purchased at either Q or Achiote River Café, children ages 12 and under eat fee.
Exploring San Antonio
History buff, thrill seeker or golf enthusiast, Hyatt properties have a package to suit every guest. Both the Grand Hyatt and Hyatt Regency San Antonio offer an Explore Package to "remember."
The day begins with a complimentary buffet breakfast from either Grand Hyatt's hip Asian Fusion Achiote River Walk Café, or Hyatt Regency's brand new international barbeque restaurant, known simply as "Q". After feasting on delicious fare, guests can tour the famed River Walk on a Rio San Antonio Cruises River Barge. Fun's afloat with two complimentary passes for this unique way of seeing the sights and sounds of downtown San Antonio, including the new, picturesque Museum Reach.
Finally, guests can relax and enjoy a bit of Texas history with two tickets for a showing of "The Price of Freedom," at the downtown IMAX theatre. With eight-story high flat screens, it is almost like being right in the heart of the action. Guests staying at the Hyatt Regency can enhance the experience by taking a walk down the Paseo del Alamo, a walkway along the San Antonio River that leads straight from the hotel to the Alamo. Furthermore, Hyatt Regency is the only downtown hotel that overlooks this historic battle site.
Because both properties are conveniently situated along the River Walk, there is no need to drive. For this reason, both properties are offering complimentary daily self-parking for the length of the stay.
Excellent San Antonio Vacation Packages Await
Family fun abounds in San Antonio with not one but TWO theme parks that offer rides, shows and plenty of adventure. To enjoy them to their fullest, both Hyatt properties offer either the SeaWorld or Six Flags Fiesta Texas Packages. Each package includes a daily breakfast buffet for two, either two, two-day passes to SeaWorld or two, one-day passes to Fiesta Texas, overnight accommodations and complimentary overnight self-parking.
Fore the Golfer
Both San Antonio Hyatt properties offer the Stay and Play Package designed with the golfing enthusiast in mind. Guests can fuel up with a complimentary breakfast before hitting the links for a free round of golf at one of San Antonio's renowned golf courses.
The Hill Country Golf Course features 27 holes on 200 acres, with a wide range of terrain. A round on this beautiful and dramatic championship course includes a golf cart with GPS, unlimited practice and a personalized pewter bag tag.
The Silverhorn Club of Texas, with its tree lined fairways and strategic use of land and water, is a treasured Hill Country experience. This round includes the use of one golf cart, unlimited practice, two welcome drinks, lunch and a pewter bag tag.
After a day navigating either of these majestic courses, guests can retire to the oasis of the Hyatt Regency and enjoy a fun night out on the San Antonio River Walk, or to the Grand Hyatt, where a $50 food and beverage credit at Bar Rojo, as well as a luxurious Grand Bed® awaits them.
As always, complimentary overnight self-parking is included with this package.
It's never been easier to see San Antonio. What are you waiting for?
About the Grand Hyatt San Antonio
Grand Hyatt San Antonio is a premier destination in the heart of downtown. The 1,003-room, 37-story luxury hotel, with 115,000 square feet of indoor/outdoor meeting space, is adjacent to the Henry B. Gonzalez Convention Center and famed San Antonio Riverwalk. The hotel also includes a fully equipped 24-hour StayFit@Hyatt gym with heated outdoor lap pool, Perks Coffee and more. At the Grand Hyatt San Antonio guests will find a unique blend of location, amenities and service to make their stay unforgettable. For more information on Grand Hyatt San Antonio, Achiote River Café or Bar Rojo please call (210) 224-1234 or visit http://grandsanantonio.hyatt.com.
About Hyatt Regency San Antonio
Hyatt Regency San Antonio is one of the Alamo City's most luxurious downtown hotels. The AAA Four Diamond property is uniquely situated on the famous San Antonio Riverwalk with a premier view of the historic Alamo, connecting two of the city's top destinations through the hotel's 16 story atrium lobby. Guests can enjoy unsurpassed Hyatt service and amenities from swimming in the heated rooftop pool to indulging in the pampering services of the DASA spa or exercising in the 24-hour Stayfit gym. Texas style cuisine and stylishly chic guest rooms make Hyatt Regency one of San Antonio's premier destination hotels. For more information and reservations, visit http://sanantonioregency.hyatt.com or call (210) 224-1234.
# # #