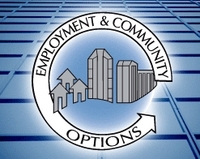 This event is the perfect opportunity for local citizens to see the value of our services, as well as view people we serve as equals within the community.
San Diego, CA (Vocus) February 12, 2010
Employment & Community Options (E&CO), a non-profit organization dedicated to enriching the lives of adults with disabilities and low-income seniors, will host a Taste of our Community event on Thursday, February 25, from 6 to 9 p.m. The public is invited to sample signature items from over 20 local restaurants, wineries and breweries, such as Hard Rock Café, On the Border, and Rock Bottom Brewery. Guests can also participate in a silent auction to support E&CO's growing programs and services, while enjoying special entertainment by an E&CO participant.
The event is commencing a series of activities throughout 2010 which celebrate the organization's 25-year-long legacy in San Diego County and statewide. The celebration will feature former San Diego Charger Billy Ray Smith, who will act as emcee of the event being held at the Coronado Community Center, located at 1845 Strand Way.
"We are proud of the role we play in connecting businesses that need reliable workers with low-income people looking to secure meaningful work," said Nancy Batterman, E&CO President and CEO. "This event is the perfect opportunity for local citizens to see the value of our services, as well as view people we serve as equals within the community."
25 years ago, a small program division of the Foundation for Education Achievement embarked on a path toward creating universal social equality. This vision began with eight individuals with severe disabilities being taught vocational and independent living skills at Midway Adult Education Center. Today, this movement has progressed into a successful organization, essential to the welfare of communities throughout five counties in California. Since its formation in 1985, E&CO's programs and services have effectively assisted in providing jobs and affordable housing to individuals with developmental disabilities.
In connection with the tasting event and the 25th Anniversary, E&CO will be launching their Healthy Favorites cookbook comprised of a wide variety of healthy and delicious recipes. E&CO program participants are proud to offer consumers their compilation of 265 recipes for only $15.
All proceeds will benefit Employment & Community Options, which are essential to enrich the lives of the individuals they serve.
This year's sponsors include:
Alliant Insurance, Barr Winery, Chevy's, Clever Cleaver Brothers, Decker Brothers Gourmet, Emerson Network Power, Ganosh Gourmet, Frank Whelan, Hard Rock Café, Hooters Downtown, Li'l Piggies, Mehngini Winery, Mootime Creamery, New York Bakers, On the Border, Pat & Oscars, Pizza Port, Rock Bottom Brewery, San Diego Wine Company, Tent City Brewing, Village Pizzeria and Wilson Creek Winery
If you'd like to expand your network and become a sponsor of the event please click here.
There are limited tickets available for the Taste of our Community event priced at $45 each. They can be purchased at http://www.communityoptions.org/news/calendar_tasteofcommunity.php
For additional information about the event please contact Megan Beardsley at (858) 565-9870 ext. 101 or mbeardsley(at)communityoptions(dot)org
About Employment & Community Options (E&CO)
E&CO is a nonprofit 501 (c) 3 human services organization that creates and supports opportunities for adults with disabilities and economically disadvantaged seniors in making choices to live, work and enjoy life in their community with dignity and respect. On an annual basis, E&CO serves approximately 1,510 individuals in five counties: San Diego, Santa Clara, Santa Cruz, Alameda and San Bernardino. E&CO is a CARF (Commission on Accreditation of Rehabilitation Facilities) accredited provider.
Contact: Keri Yednak
Phone: (619)236-0200
Mobile: (609)709-4297
# # #