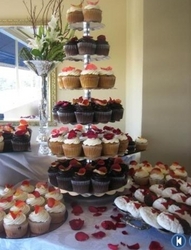 It's amazing how our cupcakes have helped grow our business and reputation.
San Diego, CA (Vocus) December 1, 2009
Babycakes Café located in one of the TOP 10 neighborhoods in the country known as Hillcrest is nestled in the dining and shopping district between downtown San Diego and Mission Valley was once a quaint old Craftsman home built back in 1889.
Because of the efforts of two young entrepreneurs and a lot of hard work this once old home is now serving the community with a host of delectable desserts, coffees and wines. The specialty of the house is its Gourmet Cupcakes in a wide variety of flavors. Many other snacks including Stuffed Croissants, Quiche, Chicken Pie and Lasagna are also offered for those looking for a light snack or lunch.
Christopher Stavros, one of the partners has this to say, "We wanted to give the community a place with some atmosphere and ambience. We did not want one of those cold looking corporate coffee shops. We wanted a special type of dessert that you cannot find at other cafes. That was accomplished with our specialty of the house cupcakes. Customers will come in and buy 6 or more at a time to take to the office or home or for a special occasion. It's amazing how our cupcakes have helped grow our business and reputation."
With its two huge patios and inside wine bar and two lounge areas it can serve up to a party of hundred and more. The back patio is private and quite. Shaded by trees and plants of all types with comfortable patio furniture and tables it's the perfect place for that first cup of coffee in the morning or that evening glass of wine.
Three computer stations with printer are available for the traveler as well as Free WiFi for those notebook jockeys.
Extremely friendly staff makes for a warm welcome. Babycakes Café and Wine Bar has all the elements for a successful business from great service, a great location, and some Cupcakes that are a Must Try.
Babycakes… "The Happiest Place South of Disneyland".
CONTACT:
Christopher Stavros
619-293-4173
Babycakes Café and Wine Bar
3766 Fifth Avenue
San Diego, CA 92103
###