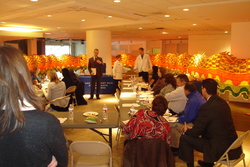 San Francisco, CA (PRWEB) April 20, 2009
Dr. Eben Davis and his team of downtown San Francisco Chiropractors are excited about educating the corporate community on ways to maintain optimum health with a high stress lifestyle. Free 30 minute health talks right in a company's conference room are a proven way to help Financial District office workers and executives gain valuable health information while on the job.
The free health talks can also be done in conjunction with a company health fair or retreat. The SF Embarcadero Center where Dr. Davis' chiropractic clinic is located offers conference rooms where Dr. Davis has done several free health talks for Embarcadero Center tenants.
Dr. Davis' clinic, Executive Express Chiropractic also offers onsite massage and emergency chiropractic services. They will come to your office or event, set-up a couple of massage chairs, and perform 15 minute chair massages and offer health advice. With the way things have been lately with the markets, stress levels have been high and Dr Davis has been busy.
Back pain is one of the most common ailments in our society and a Consumer Reports back pain survey recently ranked chiropractic #1 for low back pain treatment. Learning how to prevent back and neck pain, carpal tunnel syndrome, headaches, and other ailments related to poor posture and stress at work just makes sense.
To find out more or to schedule a chiropractic health talk, onsite massage, or emergency chiropractic care at your San Francisco Financial District company, club, or event, contact us or visit us online at http://www.ExecutiveExpressChiropractic.com.
About Executive Express Chiropractic:
Dr. Eben Davis & Executive Express Chiropractic offers Walk-in, No-Waiting, No Hassles Chiropractic services to the SF Financial District (for over 17 years). Dr. Davis writes daily on his award winning blog at http://www.SFBackPainDoctor.com.
Contact:
Dr. Eben Davis, Clinic Director
415-392-2225
# # #