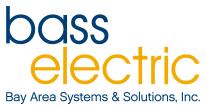 Terminal 2 is amazing—and everyone at BASS Electric is proud to have been a part of this historic project.
San Francisco, CA (Vocus/PRWEB) July 13, 2011
San Francisco commercial electrical contractor BASS Electric recently completed electrical work on energy-saving lighting and an innovative new baggage conveyor system for the brand-new Terminal 2 of SFO.
In 2008, responding to growth in passenger traffic and airline demand for gates, San Francisco International Airport (SFO) embarked on a $383 million project to renovate Terminal 2 (T2) into a state-of-the-art domestic terminal. BASS Electric installed energy-efficient lighting in six new stores located in Terminal 2, and also installed the electrical system of the new streamlined baggage conveyer system.
"Terminal 2 is amazing—and everyone at BASS Electric is proud to have been a part of this historic project," said Jeff Yee, owner of BASS Electric.
The $383 million-dollar upgrade to Terminal 2 is specially designed to be a model of comfort, elegance and sustainability. T2 has features not usually associated with airports, including abundant natural light, comfortable waiting areas, eye-catching art installations, play areas for children, and restaurants featuring locally produced, natural food.
The terminal is designed with sustainability in mind, with features including waste reduction, reclaimed water reuse, greenhouse gas mitigation, and more. T2 is on track to be the first airport project to obtain LEED Gold Certification.
The lighting project undertaken by BASS Electric features creative lighting solutions in high-end venues such as the American Airlines Admirals Club, Kiehl's, and Mango, as well as in airport favorites like Starbucks, Compass Books and Andalé. Using energy-efficient lighting is one of the measures included in SFO's plan to get LEED Gold Certification for T2.
The airport estimates that the "incorporation of energy efficient lighting and efficient machinery will reduce electrical energy consumption by 2.9 giga Watt hours per year, and natural gas consumption by 116,000 therms per year, resulting in a reduction of 1,640 tons of CO 2 emissions per year."
The entire length of Terminal 2's baggage conveyor system is lined with sensors that are linked to the airport's aircraft-to-terminal luggage tracking system. The baggage claim area has been designed as "kinetic art," with the bag delivery system exposed to passengers' view. The ceiling above is sculptured to resemble San Francisco's distinctive cloud patterns.
Bay Area fliers traveling on American Airlines or Virgin America are invited to experience the elegant lighting solutions and efficient conveyer system put in place by BASS Electric by choosing T2 for their next domestic flight.
About BASS Electric
BASS Electric is a San Francisco Bay Area commercial electrical contractor that specializes in commercial electrical construction, commercial solar system design and installation, infrared scanning and testing, commercial electrical maintenance, and arc flash coordination studies. BASS Electric provides services in the San Francisco Bay Area and across the nation. For more information, call BASS Electric at (415) 578-9894 or visit them on the web at basselectric.net.
###