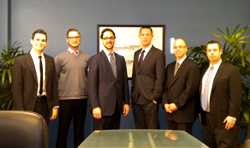 A grandparent who is denied access to a grandchild should contact an experienced family law attorney to learn more about visitation rights
San Francisco, CA (Vocus/PRWEB) June 22, 2011
Sept 11, 2011 is the 32nd annual Grandparents Day, a national holiday declared by President Jimmy Carter. In celebration of Grandparent's Day, many places around the Bay Area, including the Oakland Zoo, have special deals or activities for grandchildren and grandparents. The holiday was first created to pay tribute to the importance of the relationship between grandchild and grandparent. Especially in a broken family, a loving grandparent can be essential to a child's health.
As the date approaches, Heath-Newton, LPP, a San Francisco family law firm, reminds grandparents that they often have rights for visitation with their grandchildren. The law on this issue, however, continues to evolve and develop in California, as we've seen in cases such as Troxel v. Granville and Butler v. Harris. At present, California law supports the best interest of the child, and that often means spending time with grandparents; however, a grandparent's right to visitation is far from unconditional.
Family units these days are diverse, with children, parents, stepparents, aunts, uncles, cousins, and grandparents all part of the mix. In many cases, grandparents play a significant role in the daily functioning of a healthy family, and can have a tremendous impact on the lives of their grandchildren.
Visitation including grandparent visitation is governed under California Family Code Section 3100 et seq. In light of the importance of the relationship between grandchild and grandparent, California law affords some visitation rights to grandparents. "A grandparent who is denied access to a grandchild should contact an experienced family law attorney to learn more about visitation rights," said Robert Kamin of Heath-Newton.
Whether a grandparent has standing to file a petition for visitation rights is determined by the circumstances of the legal parents. A grandparent may file a petition for visitation rights if the legal parents are currently involved in a marital dissolution proceeding, or if either legal parent is deceased and the grandchild is not emancipated.
Grandparents cannot file for visitation if the legal parents are married, currently living together on a permanent basis, have not been absent for more than a month without the other spouse knowing the whereabouts of the absent spouse, or are currently residing with the child and the child has not been adopted by a stepparent.
Once a petition for visitation is filed by the grandparent, the general standard applied, like most child custody and visitation matters in California, is whether granting the petition is in the best interests of the child.
For more information about grandparent grandchild visitation in California or any other family law matter, please contact Heath-Newton, LLP by calling (415) 992-5038, visit their website http://www.heathnewton.com, or stop by their office located at 240 Stockton Street, Suite 300 in San Francisco, California.
About Heath-Newton, LLP
Heath-Newton, LLP is a San Francisco family law practice focused on families. These San Francisco divorce attorneys pride themselves on working with clients from all backgrounds and lifestyles. Heath-Newton, LLP specializes in premarital agreements (prenups), same-sex marriages and domestic partnerships, divorce, child support, spousal support, adoption, and child custody in San Francisco and the Bay Area.
###