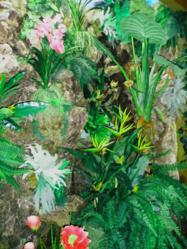 Silk flowers make the cost of displaying floral arrangements affordable, especially for places like offices where budgets have been cut
San Francisco, CA (PRWEB) July 31, 2011
La Barca is a landmark Marina / Cow Hollow restaurant that has served San Francisco residents and visitors authentic Mexican and award-winning margaritas and signature drinks since 1963. Recently, the owner James Bernard decided to refresh the look of a large waterfall, the centerpiece of the restaurant, by installing a new floral arrangement using silk flowers and foliage.
"When Mr. Bernard approached me with the request, I was hesitant," said Kaori Imaizumi. "It was a large area to cover, and it looked like it would be very difficult to attach the flowers over the rocks."
The waterfall at the restaurant is about ten feet tall and 19 feet wide. It had not been in operation for years. The owner had decorated the rocky surface with an assortment of artificial flowers and other foliage so that it resembled a garden. Imaizumi had a different vision. She wanted to make the arrangement flow like a waterfall.
Before taking on the challenge, Imaizumi conducted research to learn about the waterfalls and flowers of Mexico. She then tried to locate silk flowers similar to those she discovered during her investigation.
She found inspiration in the tallest waterfall in the world, Salto Angel—or Angel Falls, which is located on Auyantepui Mountain in Canaima National Park in Venezuela. When she was confident that she could orchestrate giant Arocasia trees and other tropical trees and plants with the help of a friendly contractor, she agreed to take on the project.
"I learned the art of silk flower designs in New York, and I have been making the custom made floral designs for both fresh and silk flowers more than fifteen years," said Imaizumi. "I am getting more and more orders for silk flowers. I think that it's because it is easier to take care of them than it is to replace fresh flowers."
Imaizumi says that the quality and textures of silk flowers are constantly improving—and today's permanent flowers look very real.
"Silk flowers make the cost of displaying floral arrangements affordable, especially for places like offices where budgets have been cut, said Imaizumi. "I am even making silk bridal bouquets for weddings now—they are ideal for brides who have the allergies."
For more information about Kaori Imaizumi's display at La Barca, or for other floral services by Blooming Floral Design, call (415) 263-9897, visit their website at bloomingfloraldesign.com, or come to their flower shop located at 2120 Sutter Street, San Francisco, CA 94115
About Blooming Floral Design
Blooming Floral Design is a San Francisco florist that specializes in bridal bouquets and stunning floral arrangements for weddings, special events, and funerals. The San Francisco flower shop contains beautiful fresh flower arrangements, silk flowers, bonsai specimens, Ikebana tools and supplies, and Japanese floral books.
Owner Kaori Imaizumi, an accredited member of the American Institute of Floral Designers (AIFD, CFD) and Sogetsu Ikebana Teachers' Accosiation, specializes in European Contemporaries and Sogetsu Ikebana styles. Awards for her designs include: the American Institute of Floral Designers People's Choice Awards, San Francisco Garden Club Eastwood Awards, and the Kund Nielson Dried Design Awards. Kaori also holds a Sogetsu Ikebana certification.
###