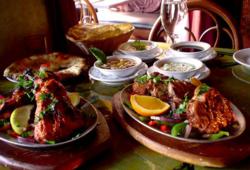 What the neighborhood needed was a high-quality, authentic Indian restaurant.
San Francisco, CA (PRWEB) October 21, 2011
Aslam's Rasoi, a San Francisco Indian and Pakistani restaurant, is celebrating five years on Valencia Street in the trendy Mission District. When chef Mohammad Aslam took over the ailing Rasoi in 2006, it was badly in need of a redesign—of both its interior and its menu. Since then, it has become a go-to dinner destination with locals, known for its award-winning authentic Northern Indian and Pakistani food, welcoming and warm atmosphere, and excellent service.
As the master chef at Indian Oven from 1995 to 2004, Chef Aslam had won numerous "best of" awards and a dedicated following. He had been garnering acclaim at Roti Indian Bistro, when the opportunity arose to follow his dream of having his own restaurant. He decided to take the chance to turn around a struggling Indian restaurant in a great location.
"Rasoi was closing due to financial problems. The restaurant was run-down and the food was not up to the standards of San Francisco foodies, but the location was ideal," explains Chef Rasoi. "What the neighborhood needed was a high-quality, authentic Indian restaurant."
Together with family and friends, Chef Aslam took over the restaurant and created a whole new menu that allowed him to explore his own diverse culinary ideas. Although small at first, over the years he has built a loyal following of in-the-know diners.
Chef Aslam has also made numerous improvements to the atmosphere. "There used to be these old booths that had t-shirt-like material. We installed new leather-upholstered booths in 2008," he recalls. The restaurant came with old, plain wood chairs, which were replaced with comfortable and stylish McGuire chairs. The atmosphere was really established with the installation of a copper bar with wood trim and colorful murals on the walls and tables. Today, the ambiance is warm and inviting, an excellent choice to bring a date or a group of friends.
The restaurant has also become known for its superior service. "Our server was amazing," raved one Yelp reviewer. "The staff was jovial and engaging," said another. "I will no doubt become a regular and can't help but smile when I think of how friendly the entire staff was," noted a third.
In the five years since Aslam's Rasoi opened, it has become known as one of the best Indian restaurants in San Francisco. One Yelp reviewer summed up the reasons: "Really good Indian food...in fact, at the top of my list! Also, the beautiful restaurant and super awesome staff make it that much better!! When I want Indian food in SF, there's a damn good chance I'll be going to Aslam's!!! Enjoy!"
For more information about the 5th anniversary, or to make a reservation at Aslam's Rasoi, call them at (415) 658-9203 or visit them on the web at http://www.aslamsrasoi.com.
About Aslam's Rasoi
Aslam's Rasoi Indian & Pakistani Restaurant of San Francisco can be found in the bustling Mission District on trendy Valencia Street. A steady member of San Francisco's international dining community, Aslam's Rasoi is one of the neighborhood's standout restaurants. This San Francisco Northern Indian & Pakistani restaurant specializes in kebabs and traditional Northern Indian and Pakistani dishes. The menu features seafood, select wines, and "King Fisher" beer from India on tap. Takeout and catering for parties of all sizes is available, and seating for up to 100 people makes this an ideal San Francisco party venue for special occasions. Please call for reservations as space is limited.
###