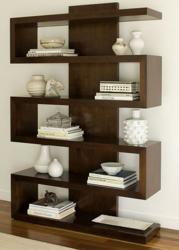 Navigating through the showroom will be like touring many fully-furnished homes
San Francisco, CA (Vocus/PRWEB) June 30, 2011
Brownstone Furniture, the leading American-made furniture wholesaler in China, is nearing completion of its flagship 21,000 square foot, 3-story showroom in the city of Hojie in southern China. Celebrated San Francisco interior designer Ian Stallings has designed the perfect canvas to show off the form and function of Brownstone's classic contemporary furnishings.
Set to complete in the July of 2011, each floor of the showroom is approximately 7,000 square feet with features that coordinate with the main styles of Brownstone's furniture collections.
The first floor will showcase Brownstone's classic-contemporary furniture. For this Stallings designed a classic vaulted barrel and mica leaf ceiling, reminiscent of a Palladian villa, juxtaposed with a glass box staircase that drops dramatically from the upper floors.
The second level will house the most contemporary furniture lines. The austere showroom space features teak flooring, zigzag partition bookcases that mimic the Brownstone's Harrison bookcase, and Caba Barkskin™ wallpaper.
The third floor, designed to showcase Brownstone's most traditional furniture, has much more millwork in different types of finishes. A silver mirrored wall in a dining room will reflect the elegant furnishings to create a jewel box feel to the room.
"Navigating through the showroom will be like touring many fully-furnished homes," said Stallings. "It's a work of art."
"Brownstone maintains a wonderful working relationship with Ian," said Reed Kingsley, president of Brownstone Furniture. "Clean and original in his design approach, he understands classic contemporary."
Brownstone opened a 2,300 square foot showroom in Shenzhen a couple years ago that caters to the growing demand in China for American-made luxury goods. The upholstery used to manufacture Brownstone furniture is made in California.
For more information about Ian Stallings' services, please call Ian Stallings at (415) 830-3038 or visit him on the web http://www.ianstallings.com. For information about Brownstone Furniture, please call Reed Kingsley at (510) 236-0703 or visit Brownstone on the web at http://www.brownstonefurniture.com.
About Ian Stallings
Ian Stallings is a San Francisco interior designer who specializes in a full range of interior architecture and interior decorating services. In each project Stallings treats the client as the muse and the home as the canvas.
Stallings' work is based on a complete understanding of each client's needs, a love of the craft, a wide knowledge of the history of architecture and interior decoration, and a profound commitment to environmental issues.
About Brownstone Furniture
Brownstone Furniture is a manufacturer of innovative and timeless furniture. The company prides itself on its quality standards and use of sustainably harvested woods and American-made finishing materials.
Brownstone is best known for their artful blends of classic looks and clean lines to bring traditional and contemporary together in flawless harmony.
# # #