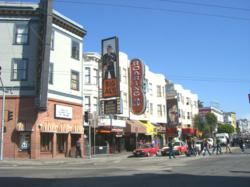 New York, NY (PRWEB) April 08, 2013
Joseph Sorbara might just be the best guide around, having been on the beaches of San Francisco for many years. A fly fishing expert, Joseph maintains his online website for thousands of fans that demand some bits from his valuable experience with the world. In his series of articles, 'Inside Joseph Sorbara's District', the writer writes informatively about various aspects of life, including fly fishing, tourism, travel and self-efficacy. His latest article pertains towards informing people on where exactly they're able to get the best food in San Francisco, without being a criminal!
The writer starts off the article in his usual, humorous style and carries an extremely light tone throughout, making the reading experience a pleasure. Joseph has also mentioned names and addresses so that the readers can easily visit the places in person. From Chinese restaurants to Thai and Italian ones, the article is a perfect, mouthwatering food guide for anyone that's new to the place.
The writer beautifully describes the renowned, classy restaurants but shifts the balance of the article more towards the food spots that are located on the beach. Even though a beachside food hut isn't exactly a royal place to eat, the taste that is served might just be a whole lot better than any restaurant.
From 'The Stinking Rose' to the 'House Restaurant', from regular Pakistani cuisines to Italian ones, San Francisco enjoys a healthy share of culinary treats.
To read the full article, visit: http://josephsorbara.co/eating-like-a-criminal-in-san-francisco-by-joseph-sorbara/
The details can also be read on Joseph Sorbara's Facebook page: http://www.facebook.com/joseph.sorbara.1
About Joseph Sorbara:
Joseph Sorbara is a renowned Fly Fishing Expert, mostly known for the online Fly Fishermen series that he publishes. With years of accumulated experience in the field, the writer now serves his fellow fishermen with effective and efficient fly fishing techniques. His blogs and writings are read by thousands of skilled fishermen and non-fishermen alike from across the globe.
Contact:
Joseph Sobara
(631) 662-2123
JosephSorbara.co