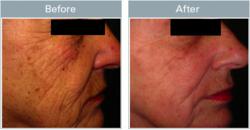 We want to help our clients erase damage and reveal their naturally beautiful skin, but we would never want to send them home in pain with peeling, raw skin
San Francisco, CA (PRWEB) November 11, 2011
Many people are unhappy with the appearance of their skin; damage from the sun, environment, and natural aging process can leave fine lines, rough patches, splotchy redness, and spots on the skin. Dermatologists often treat these concerns with laser facial rejuvenation treatments, which use focused lasers to remove the damaged top layer of skin, exposing the undamaged skin beneath. But these painful treatments leave skin burned and raw, forcing patients to hide at home until their skin heals—a 4 to 7 day recovery process. San Francisco med spa Venus Bodywork has a better idea: Radiancy, a new cutting-edge light and heat treatment that improves the appearance and texture of skin with no down time.
"We want to help our clients erase damage and reveal their naturally beautiful skin, but we would never want to send them home in pain with peeling, raw skin. That's why we love Radiancy: it has all the benefits of traditional photo facial treatments without damaging the top layer of skin," explains Miria Kutcher, owner of Venus Bodywork.
Radiancy uses light and heat energy (LHE) to create a minor thermal abrasion in lower layers of skin, causing the skin to generate a healing response, building more collagen, which improves skin's appearance. The treatment requires no downtime, and causes virtually no discomfort.
Genevieve Castro, the Lead Esthetician at Venus Bodywork, says she finds Radiancy effective on a wide range of skin types—from people in their mid-20s who use it as a preventative measure to people in their 70s who want a younger-looking complexion.
"We customize the heat level for every client to ensure they get the most effective treatment possible without causing redness or discoloration, even if they have sensitive skin," Castro explains. "Clients of all ages find it effective for everything from reducing wrinkles to rosacea to minimizing pores to removing sun damage."
Because it is so much gentler than traditional photo facial methods, Radiancy typically takes 5 to 10 treatments to have noticeable results. Castro notes that it is also very effective when combined with other facial treatments.
"Adding Radiancy to the end of a facial often visibly shrinks pores and improves skin tone. And if you combine it with Cosmecanique, the natural facial workout, it's like getting a non-surgical facelift."
For more information about Radiancy, or any of Venus Bodywork's products or services, call them at (415) 227-4322, view them on the web at http://www.venusbodywork.com or visit them at 862 Folsom Street in San Francisco by appointment.
About Venus Bodywork
Venus Bodywork was founded in 2004 and is a non-traditional spa that specializes in non-invasive weight loss and body shaping treatments from around the world. The med spa offers the women of San Francisco weight loss treatments and liposuction alternatives that produce equally impressive results at a fraction of the cost, risk, and without causing down time. Venus also offers skin care solutions and specialized waxing.
###