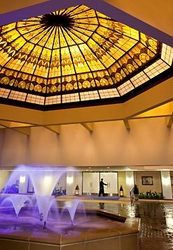 San Francisco, CA (PRWEB) April 15, 2010 -
The Stanford Court, A Renaissance Hotel, underwent a $35 million dollar renovation last year. The renovations have moved the hotel to the front of the Nob Hill hotels, as it now embodies the luxury and style Nob Hill is known for.
The renovations at the Nob Hill hotel in San Francisco were comprehensive, and make the hotel stand out among the other San Francisco Nob Hill hotels. All of the 393 guest rooms in this San Francisco Nob Hill hotel include luxurious bedding, a 37 inch flat screen high definition television, state of the art Media Center Hubs for personal electronics, wired and wireless high speed internet and in drawer laptop safes. Additionally, the marble bathrooms in each guest room come with amenities such as heated towel racks, complimentary bath robes, shaving/make-up mirrors and hair dryers.
Guests are raving about The Sanford Court Nob Hill hotel and the new restaurant Aurea. This Nob Hill hotel restaurant offers a seasonal menu of dishes celebrating the Bay Area. Diners can choose from hand crafted cocktails and over 40 wines by the glass.
For more information about the newly renovated Stanford Court, a Renaissance Hotel or to book the deal, visit http://www.marriott.com/hotels/travel/sfosc-the-stanford-court-a-renaissance-hotel or call 1-415-989-3500.
About The Stanford Court, A Renaissance Hotel
The Stanford Court, A Renaissance Hotel is located in the world famous Nob Hill district in San Francisco. The Stanford Court offers luxury accommodations near the popular Powell and California Street Trolley lines. The hotel includes newly renovated rooms and business centers making it one of the premier hotels in Nob Hill. The best of the San Francisco hotels Nob Hill is known as the New Nob Hill.
###