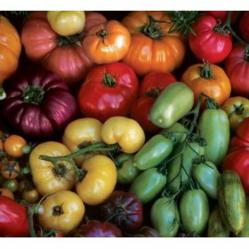 We're using Terra Bella Family Farm's superb produce everywhere, like in our sautéed calamari—which features fresh cayenne pepper fresh from the field.
San Francisco, CA (PRWEB) September 20, 2011
Tomatoes and eggplant and zucchini—oh my! Forget Kansas, Toto. California is the place to be to experience the best fruits and vegetable flavors this time of year, particularly those picked at the peak of ripeness and flavor at nearby Terra Bella Family Farm, a Bay Area Certified Organic Farm in Pleasanton. Plouf Seafood Bistro, the premier downtown San Francisco seafood restaurant, is celebrating the bounty with menu items that range from an incredible heirloom tomato salad to Plouf's BLT hamburger.
"Our guests can't get enough of our heirloom tomato salad, which is made from the best heirloom tomatoes available plus crispy eggplant, bufala mozzarella and basil pesto made with extra virgin olive oil," said Plouf's executive chef Mark Papadis. "We're using Terra Bella Family Farm's superb produce everywhere, like in our sautéed calamari—which features fresh cayenne pepper fresh from the field."
Plouf has refreshed its menu to take advantage of the delicious seasonal foods like: summer squashes, including crooked neck, zucchini and zephyr; eggplant; tomatoes; lemon and Armenian cucumbers; and mixed heirloom peppers, like cayenne, yellow and gypsy.
"This is the best time of the year for produce—it tastes like summer to me," said Papadis.
Terra Bella Family Farm has been growing organically since it's inception in 2006, and has since been incorporating some biodynamic practices into their farming systems, which enrich and nourish the soil as well as the creatures that live and feed from the fields. Biodynamic agriculture is a form of organic farming that emphasizes balance between the soil, plants and animals. Biodynamic farms like Terra Bella Family Farm operate as self-nourishing systems with minimal external inputs used only to replenish the nutrients loss with the export of food.
Regarded by some as the first modern ecological farming system and one of the most sustainable, biodynamic farming has much in common with other organic approaches that emphasize the use of manures and composts and exclude the use of artificial chemicals on soil and plants. As in other forms of organic agriculture, artificial fertilizers and toxic pesticides and herbicides are strictly avoided.
Some of the biodynamic approaches that Terra Bella Family Farm has implemented include the use of fermented herbal and mineral preparations as compost additives and field sprays and the use of an astronomical sowing and planting calendar. The latter considers what phase of the moon is most appropriate for planting, cultivating or harvesting various kinds of crops.
"Organic and biodynamic farms are producing more nutrient-dense foods that look, feel and taste better than anything available in the conventional market," said Shawn Seufert, who owns and operates Terra Bella Family Farm. "We are proud to offer the highest quality local certified organic produce, which is actually healthier due to the land stewardship practices we use on our farms."
About Plouf Seafood Bistro
Plouf Seafood Bistro, located in the Financial District, is one of San Francisco's best seafood restaurants. Plouf specializes in mussels, oysters, unique appetizers, salads, seafood dishes, and meats. "Plouf" is the sound a stone makes when it drops into a French stream. Chef Mark Papedis studied cooking in France, served as chef at the Ahwahnee Dining Room in the world-famous Ahwahnee Hotel in Yosemite National Park for three years, and served as chef at Wente Vineyards in Livermore for the last five years.
For more information about Plouf's current menu, please call (415) 986-6491, visit the website at http://www.ploufsf.com or come to the restaurant located at 40 Belden Place in San Francisco.
About Terra Bella Family Farm
Terra Bella Family Farm grows mixed vegetable crops on six acres at the Sunol AgPark and operates its home farm down the road in sunny Pleasanton, California. For the past four years, the farm has developed relationships with the local communities, and in 2010, grew its community supported agriculture (CSA) network to include 240 members. In 2009, after three seasons of using sustainable organic practices similar to that of the University of California at Santa Cruz (UCSC) Farm and Garden Apprenticeship Program, the local Bay Area farm received its certification through CCOF. The farm supplies restaurants area the Bay Area and sells direct to the public at the Pleasanton and Walnut Creek farmer's markets.
For more information about Terra Bella Family Farm, please call (925) 202-8020 or visit them at the downtown Pleasanton Farmer's Market from 9 am to 1 pm on Saturdays or at the Locust Street Walnut Creek Farmer's Market from 8 am to 1 pm on Sundays.
###