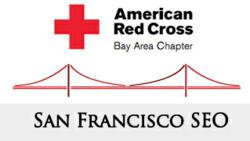 San Francisco, CA (PRWEB) November 02, 2011
In the San Francisco Bay area, emergency preparedness is a high priority. The real possibility that an earthquake might occur means residents of the area should always be prepared. Toward this end, the San Francisco Bay Area Chapter of the American Red Cross announces they now provide classes in basic CPR, CPR certification, First Aid instruction, lifeguard training and automated external defibrillator (AED) training. Emergency preparedness is a major part of the Red Cross' mission. In order to increase the visibility of their programs and bring in more attendees, the Red Cross turned to Search Engine Optimization, or SEO.
With help from San Francisco SEO, the Red Cross implemented use of over one hundred additional keywords throughout their website. These keywords make it possible for Internet users to find the Red Cross pages more easily among the millions of choices available. As a result of these efforts, the Red Cross website has experienced increased traffic of an additional three thousand hits every month. About one-third of these new visitors arrive at the website via searches for CPR, First Aid training classes, lifeguard classes, volunteer work, and AED training. In addition, the San Francisco Red Cross has increased the number of classes available to accommodate new inquiries and enrollment for classes.
The Red Cross helps individuals, businesses and organizations prepare not only earthquakes, but also other disasters, including fires, floods and even terrorist attacks. With more individuals receiving training, from basic First Aid to advanced CPR certification, the San Francisco Bay area will be more prepared in case of emergencies. The Bay Area Chapter of the American Red Cross can be found at http://www.redcrossbayarea.org.
About San Francisco SEO
San Francisco SEO provides SEO services to businesses to help increase the visibility of their websites in search engines. Although SEO is not a quick fix solution, its goal is to keep a business' website relevant, which will make it rank higher in the major search engines. Over time, this leads to wider exposure, higher return on investment, and an increase in customers.
For an SEO Quote or for more information on San Francisco SEO, visit their website at http://www.sfseo.us.
###