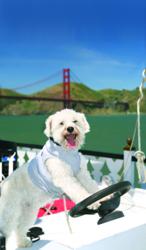 Well-behaved hounds of all sizes and breeds are welcome.
San Francisco, CA (Vocus/PRWEB) May 12, 2011
Family dogs are invited to be furry first mates on Sunday, June 12, when Hornblower Cruises & Events holds its annual Dog Day on the Bay cruise. The popular event is the one time each year that dogs cruise free with their owners, and this year's cruise navigates new philanthropic waters by benefitting the San Francisco SPCA's Puppy Dog Tales Reading Program for the first time.
During the two-hour cruise, guests enjoy a brunch buffet and free-flowing sparkling wine, plus live entertainment and scenic San Francisco Bay views. Top dogs are spoiled with treats at the bow-wow buffet, first-class canine water stations and a specially-constructed outdoor grass deck for doggie bathroom breaks.
Well-behaved hounds of all sizes and breeds are welcome. To ensure pet safety, San Francisco SPCA veterinarians and dog monitors will cruise with the group, and custom-built netting on the ship's rails protects pups big and small.
This year's Dog Day on the Bay beneficiary, the Puppy Dog Tales Reading Program (PDT), part of the Animal Assisted Therapy program at the San Francisco SPCA that promotes basic literacy skills for San Francisco students. Whether English is their second language, they live with a learning disability or anxiety or shyness keeps them from reading aloud with confidence, these youngsters require a little extra attention to overcome hurdles.
PDT participants learn to love books by reading out loud to SF SPCA therapy dogs, removing the pressure of classmates or adults, and work with supportive volunteers on vocabulary, grammar and other challenges. Since it started as a pilot program at the San Francisco Public Library's Chinatown branch in 2007, PDT has expanded into 18 sites including SF Unified schools and local Boys & Girls Clubs.
Dog Day on the Bay boarding begins at 11 a.m. on Sunday, June 12, at Hornblower Landing (Pier 3 on San Francisco's Embarcadero). Cruising follows from noon to 2 p.m. Canine guests enjoy complimentary entrance, while tickets are $125 for adults, $65 for children ages 4 to 12, and free for ages 3 and under.
For information and reservations, visit http://www.dogdayonthebay.com or call 415-788-7020.
To learn more about Hornblower's dining, special event and private charter cruises, go to http://www.hornblower.com.
For more on the San Francisco SPCA, dog training advice or dog adoption, visit http://www.sfspca.org. Special thanks to this year's Dog Day on the Bay sponsors, Sloat Garden Center, Mutt Lynch Winery, KSFO-AM and San Francisco Magazine.
Remember, a few simple rules will make 2011 Dog Day on the Bay fun for everyone:
1) One dog per adult is welcome. The event is not open to dogs under six months of age.
2) Waiver forms (provided upon ticket purchase) must be completed prior to boarding.
3) Dogs must wear current rabies vaccination and identification tags to board.
4) All dogs MUST be on a leash at all times.
5) Owners must clean up after their dogs.
6) No dogs in heat are allowed.
7) The cruise is not recommended for dogs that are sensitive to movement or prone to motion sickness.
8) This event is not appropriate for dogs that are unpredictable in crowds or dislike strangers or other dogs.
9) This event is for dogs and people only. Please do not bring other pets.
Hornblower Cruises & Events has been the leading charter yacht and public dining cruise company in California for over 30 years. The company operates 32 vessels, including the 3 largest dining yachts on the West Coast, in San Francisco, Berkeley, Sacramento, Long Beach, Newport Beach, Marina del Rey and San Diego. Two Hornblower subsidiary businesses, Alcatraz Cruises and Statue Cruises, are National Park Service ferry concessioners to Alcatraz Island and the Statue of Liberty and Ellis Island, respectively. For more information visit: http://www.hornblower.com/pressroom.
About San Francisco SPCA
The San Francisco SPCA is a community-supported, non-profit animal welfare organization dedicated to animal care, saving, protecting and providing immediate care for cats and dogs who are homeless, ill or in need of an advocate.
The SF SPCA also works long-term to educate the community, reduce the number of unwanted kittens and puppies through Free spay/neuter procedures spaying and neutering, and improve the quality of life for animals and their human companions. For more information, visit sfspca.org.
To volunteer with the SF SPCA, sign up online at sfspca.org/support/volunteer or please contact SF SPCA Volunteer Services at 415.554.3087for more information. To donate to the SF SPCA, visit sfspca.org/support/donate or call 415.554.3029.
# # #