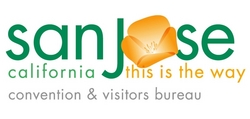 San Jose, CA (Vocus) May 1, 2008
Year-round Silicon Valley rings with live music and a multifaceted array of other events, from edgy and sophisticated to down-home fun. With so much to choose from, and with 300 days of sunshine, travelers to San Jose find plenty of reasons to visit and stay. Here's what's coming up over the next few months (visit http://www.sanjose.org/pressroom/pressreleases/2008.php?x=0408_spring_summer_event for full version of events release):
ENTERTAINMENT, EVENTS, AND FESTIVALS
Downtown San Jose Farmers' Market
Fridays, beginning May 2
San Pedro Square
sjdowntown.com
CalChess State Championships
May 16-18
San Jose McEnery Convention Center
Chess tournament.
calchessscholastics.org
Dance Rave Competition
May 16-18
Civic Auditorium
Free Admission.
dancerave.com
FanimeCon 2008
May 23-26
San Jose McEnery Convention Center
Northern California's largest Japanese Anime convention.
fanime.com
Unique Lives & Experiences presents Judy Collins
May 30
Center for the Performing Arts
Featuring American folk music legend Judy Collins. Admission is $136-$282.
uniquelives.com
Irene Dalis Vocal Awards Competition
May 31
California Theatre
Features up-and-coming opera talent. Admission is $20-$200.
operasj.org
The 2nd Biennial 01SJ Global Festival of Art on the Edge
June 4-8
Downtown San Jose
This unique biannual event features transformative and provocative new works from world-renowned artists and performers at the cross-section of contemporary art, technology, and culture. The five-day festival will incorporate exhibitions, films, concerts, performances, happenings, and nightlife occurring throughout downtown San Jose's parks, public streets, museums, theaters, and clubs. New this year is the Green Prix award for the best example of environmentally friendly art. Admission is free-$100. 01sj.org
Metro Music in the Other Park
Thursdays, June 5-26
St. James Park
Summertime comes alive with this popular outdoor concert series, featuring major-league acts. sjdowntown.com
California USA Wrestling's Kids/Cadet Freestyle State
June 6-8
San Jose McEnery Convention Center
Admission is $5-$10. For more information, call 559-275-9478 or visit
ca-usaw.org
Symphony Silicon Valley presents Mendelssohn & Rachmaninoff
June 7-8
California Theatre
Admission is $36-$72.
symphonysiliconvalley.org
Voices in Harmony presents Now & Then
June 7
Center for the Performing Arts
Northern California's premier men's a cappella chorus. Admission is $20-$25.
vihchorus.org
American Musical Theatre of San Jose presents Disney's High School Musical
June 10-15
Center for the Performing Arts
This new touring stage adaptation of Disney's High School Musical. Admission is $19-$74.
sjtix.com
La Arrolladora Banda Limon, Conjunto Primavera, and Montez de Durango
June 14
San Jose McEnery Convention Center
Top name bands from Mexico in one spectacular evening. Admission is $35-$65. elmexicanopresenta.com
San Jose Pride Parade
June 14-15
Discovery Meadow
Festivities include a parade, food booths, live music, and entertainment. Saturday is free Family Day. Admission for Sunday is $15 at the door and $10 in advance.
sjgaypride.com
Lyric Theatre presents The Pirates of Penzance
June 21-29
Montgomery Theater
Admission is $12-$34.
lyrictheatre.org
MamaFest!
June 28
Parkside Hall
Features "mamapreneur" speakers, a career/life coach, and comedy focuses on motherhood and how to create a work/life balance.
bayareamama.com
Movie Magic
June 28
Center for the Performing Arts
Dance performance depicting different movies using music from the past and present Hollywood movies. Admission is $20-$25.
thedanceaffair.com
Nor Cal Dance Arts
June 29
California Theatre
Nor Cal Dance Arts' summer showcase. Admission is $18-$25.
norcaldance.com
Step Up and Dance
June 29
Center for the Performing Arts
A variety of dance styles – tap, jazz, ballet, and hip-hop – are performed by students ages 2 ½ through adults.
lanasdancestudio.biz
Festival for Independence
July 4-6
Downtown San Jose
americafestival.com
Cinema San Pedro
Wednesdays, July 9-August 27
San Pedro Square
Movie fans are encouraged to come together for free movies at dusk.
sjdowntown.com
Metro Music in the Park
Thursdays, July 10-September 4
Plaza de Cesar Chavez
Local and international artists perform music from a variety of genres. Free Admission.
sjdowntown.com
Cinema St. James
Saturdays, July 19-August 23
St. James Park
Film enthusiasts can check out free movies at dusk.
sjdowntown.com
San Jose Bodybuilding, Fitness, & Figure Championships
July 12
South Hall
Admission is $20-$38.
paullovesvproductions.com
LOOKING AHEAD
Comcast San Jose Jazz Festival presented by Southwest Airlines
August 8-10
sanjosejazz.org
6th Annual Electronic Sports World Cup Grand Final
August 25-27
eswc.com
San Jose International Mariachi Festival
September 24-28
mhcviva.org
Rock 'n' Roll Half Marathon – San Jose
October 5
rnrsj.com
Downtown Ice
November 21-January 19
sjdowntown.com/eve_eve_ice.html
Winter Wonderland
November 26-January 4
giantcreative.com
Christmas in the Park
November 27-January 1
christmasinthepark.com
For a full version of the events release, visit http://www.sanjose.org/pressroom/pressreleases/2008.php?x=0408_spring_summer_event.
The San Jose Convention & Visitors Bureau's (SJCVB) mission is to enhance the image and economic well-being of San Jose by marketing San Jose as a globally recognized destination. The SJCVB offers meeting planners, tour operators, and individual visitors a wide range of services to ensure a successful event and fun visit to San Jose. To receive a copy of the Bureau's Meeting Planning Guide or Official Visitors Guide, please contact the SJCVB at 1-800-SAN-JOSE (1-800-726-5673) or visit http://www.sanjose.org.
CONTACT:
Meghan Horrigan, 408-792-4175, mhorrigan @ sanjose.org
Jeanne Sullivan, 650-215-8156, jsullivan @ sanjose.org
Yvette Roman, 408-792-4120, yroman @ sanjose.org
###