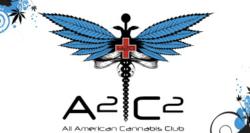 San Jose, CA (Vocus/PRWEB) July 14, 2011
On July 16, 2009 the first storefront cannabis collective in the South Bay, the San Jose Cannabis Buyers Collective (SJCBC), opened its doors. In honor of this historic event, the All American Cannabis Club (A2C2) will host a free barbeque and party this Saturday, July 16, 2011.
Members of the San Jose medical cannabis community are invited to attend the barbeque and party to celebrate the progress that has been made thus far, and to learn more about what's next for medical cannabis in San Jose.
California voters have approved cannabis for "any illness for which marijuana provides relief." Suffers of any medical condition including ADD/ADHD, sleeping problems, Cancer, chronic pain, Glaucoma, Migraines, AIDS, Arthritis, Fibromyalgia, Crohn's Disease, PTSD, Tourette's Syndrome, anxiety, seizure disorders, and many other illnesses, have the legal right to use cannabis as a medication in the state of California.
A2C2 is dedicated to protecting citizens' rights to obtain medical cannabis in San Jose. They carry a large selection of high quality flowers, concentrates, and edibles. New members receive a 20% discount, and A2C2 also offers medical, military and senior discounts. A2C2 serves the entire San Francisco Bay Area, and will deliver within San Jose.
About A2C2
A2C2 is a not-for-profit medical cannabis collective dedicated to providing safe and reliable access to holistic medicine. The San Jose medical marijuana collective provides the most effective, reliable cannabis at an affordable price. The staff takes pride in upholding standards of excellence in a compassionate and forward thinking environment. A2C2 replaced SJCBC in March of 2011.
The San Jose medicinal marijuana collective is open from 11 am to 9 pm Monday through Friday and 11 am to 7 pm on Saturday. For more information about A2C2, or any of A2C2's products or services, call them at (408) 217-0339 or visit them on the web at medicalmarijuanasanjoseca.com.
# # #