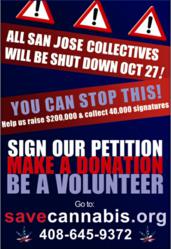 If the referendum fails, thousands of people suffering a wide range of illnesses could lose access to their medication, driving them to the illegal black market.
San Jose, CA (PRWEB) October 07, 2011
Santa Clara County Democrats recently endorsed the referendum to repeal San Jose's "effective" ban of medical cannabis. San Jose's new medical marijuana ordinance will take medicine away from ailing citizens and lead to lost jobs, lost tax revenue, and increased crime rates, says Citizen's Coalition for Patient Care (CCPC).
"We welcome the Democratic Party's endorsement. If the referendum fails, thousands of people suffering a wide range of illnesses could lose access to their medication, driving them to the illegal black market," says James Anthony, Director Of Citizen's Coalition For Patient Care, a San Jose coalition of patient activists.
The San Jose City Council just passed a new ordinance that will shut down all medical cannabis dispensaries in the city on October 29th, and allow only 10 to reopen under limitations so severe that medical marijuana dispensaries say they cannot hope to comply. Anthony says, "thousands of jobs will be lost, millions of dollars in local and state taxes will go up in smoke, and the city will likely experience an increase in crime."
The ordinance will shutter over 120 small businesses and leave 1,000 to 1,500 people out of work. The new ordinance limits the 10 dispensaries allowed to continue operations to industrial neighborhoods, and requires that they grow all medicine on site and produce all edibles, concentrates, tinctures, etc. in-house.
"These requirements go too far. They will effectively shut down all the existing dispensaries and replace these small businesses with a few Walmart-sized dispensaries that will invite federal attention and raids," says Debby Goldsberry, Director & Co-Chair CCPC.
"Large scale cultivation requires a lot of electricity. Having a dispensary in the same location isn't practical or safe, and puts patients at risk." adds Goldsberry.
The City of San Jose currently receives an additional 7% tax on all marijuana dispensaries, so the ordinance will cause the City of San Jose to lose an estimated $3.5 million in taxes, at a time when the city government is trying to close a $115 million budget shortfall.
"Voters approved the tax on San Jose medical marijuana collectives last year because they wanted the City to benefit from the extra revenue. Why would the Council move to wipe out that revenue at a time when the City of San Jose is struggling to meet its obligations? They are not only harming patients and small businesses, they are also hurting themselves," notes Goldsberry.
Contrary to the Council's claims, crime actually rises when medical cannabis dispensaries are closed down, according to a new study by the RAND Corporation. The study showed an increase in crime after the City of Los Angeles closed 70% of local medical marijuana dispensaries. The study found a 59% overall increase in crime within 0.3 miles and a 24% increase within 0.6 miles of shuttered dispensaries in the 10 days following their closure, as opposed to the 10 days before. Hypotheses for this increase include the loss of security provided by the dispensaries, reduced foot traffic in the area, and a change in police presence.
"Counter to the claims of medical marijuana opponents, dispensaries increase neighborhood security and deter property crimes. This ordinance will backfire on the City, causing an increase in theft, breaking and entering, and assault," says Matt Witemyre, Co-Chair of CCPC, and Special Projects Union Representative on cannabis issues for UFCW Local 5, a union that supports medical cannabis workers.
"Medical cannabis is a safe and effective treatment option for many serious medical conditions, and patients should not be forced to purchase their medicine from criminals, drug dealers, and gangs, which will be their only point of access if the City of San Jose forces dispensaries to close," continues Witemyre. "In addition, thousands of workers will be forced from their jobs in the midst of the worst economic crisis since the great depression."
Advocates are uniting to gather 40,000 signatures to stop the new ordinance, forcing the Council to reconsider the plan or submit the issue to voters next year. The signature drive must be successful by October 29th in order to halt the ordinance. CCPC urges concerned citizens to visit the website of Citizens Coalition for Patient Care, http://www.savecannabis.org for updates, to make a donation, and to find a nearby signing location.
"We have a very limited amount of time to prevent this draconian new San Jose medical cannabis ordinance. If you are concerned about helping your neighbors have safe access to medicine, keeping tax revenue flowing, and preventing and increase in crime, please sign the petition," implores Witemyre.
For more information about stopping the new San Jose medical marijuana ordinance, call CCPC at (408) 645-9372, view them on the web at http://www.savecannabis.org, or become a fan at https://www.facebook.com/pages/Citizens-Coalition-for-Patient-Care/257248364312137?ref=ts.
###