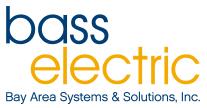 SunPower's solar PV products are more efficient than those made by other manufacturers.
San Francisco, CA (Vocus/PRWEB) May 12, 2011
Many San Francisco Bay Area businesses are moving to solar power, but some companies have limitations on their available space and access to direct sunlight. For these situations, Bay Area commercial electrical contractor BASS Electric is now installing SunPower solar panels with Maxeon™ cell technology—the most efficient photovoltaic (PV) panels commercially available today.
"As a dealer of SunPower products, we can really help customers who have limited space or direct sun exposure," said Jennifer Trevino, COO of BASS Electric. "SunPower's solar PV products are more efficient than those made by other manufacturers."
Many consider SunPower® Maxeon™ solar cell technology to be the best in the industry. These cells currently hold the world record in efficiency at 22.4 percent, and their solar panels deliver up to 50 percent more energy than conventional panels.
"We believe SunPower is leading the industry in terms of solar efficiency, quality and reliability," said Trevino. "BASS Electric's staff participates in ingoing training on design, building, and roof installation at SunPower University." As one of the largest commercial electrical contractors in San Francisco, BASS Electric is equipped with the most advanced training, products and services in the industry.
SunPower has combined the most experienced team of solar installation experts on the planet with record-breaking high efficiency solar panel technology. "We understand that when our solar systems deliver the most energy, our customers realize the greatest total savings on energy costs," they state. With over 20 years in the industry, SunPower knows what it takes to provide businesses with quality solar products and services.
SunPower products can be bought in extended bundles that include easy-to-install non-penetrating racking, panels, inverters (change from DC to AC), combiner boxes, and data acquisition system (DAS). The equipment is backed by a 25-year warranty.
SunPower's simplified design makes the panels easy to install, which reduces installation time and cost.
For more information about SunPower products, call BASS Electric at (415) 578-9894 or visit them on the web at basselectric.net.
About BASS Electric
Established in 1996, BASS Electric is a commercial electrical contractor that specializes in Bay Area commercial solar design, solar Installation, infrared scanning and testing, commercial electrical maintenance, and arc flash coordination studies. BASS Electric serves the entire San Francisco Bay Area.
# # #