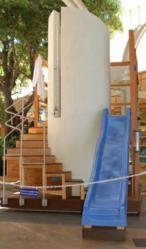 Sister Leonarda of Holy Angels Catholic School recalls, "... we thought it was probably too good to be true."
(PRWEB) September 09, 2011
Holy Angels School in Colma, is getting their very own super-sized Playhouse. The Science Lab is being donated by a San Mateo remodeler and custom builder S.E.A. Construction Inc, and The Hayes Design Group of Redwood City. The two companies collaborated to design and build the outstanding playhouse for Rebuilding Together Peninsula's 2011 Dreams Happen Gala Auction which had been held in June. "The Science Lab playhouse is atypical, we believe, because of its high learning component." Said S.E.A. owner Steven Albert.
The fifteen foot tall, 1.5 ton structure became a rare opportunity for local schools. "We were thrilled to have an occasion to donate our playhouse to a school. It's a gift to be able to do that." said Mrs. Albert. Within a week, four schools had written to her.
Sister Leonarda of Holy Angels School recalls, "Although at the time we had no idea of the value of the play structure, we still thought it was probably too good to be true. But Father (our parish priest) told me to call anyway and find out."
Steven Albert, a respected San Mateo remodeler who founded S.E.A. Construction twenty-two years ago, has a history of giving to his community. Despite the challenges of this economy, Mr. Albert who also grew up on the Peninsula, donates regularly to San Mateo schools like Baywood Elementary and Borel, as well as to community organizations that help parents maintain valuable extracurricular programs.
Shifting the focus from himself, Steven emphasized, "What I'd like people to know is that within the S.E.A. community of subcontractors and support services are wonderful people who get on board with many of the things we contribute to."
Albert is referring to when he and his staff raised money for the Muscular Dystrophy Association's Lock-Up campaign for Jerry's Kids earlier in May. Long time subcontractors and vendors were the largest group of contributors to the cause. So when it comes to building playhouses, both the 2009 Spy Lair (which fetched the highest bid for the 2009 event) and this year's Super Science Lab, the collaboration was natural.
"My project manager Rich Alfano gave a tremendous amount of his personal time," said Steven Albert, "Cody│Brock donated space for construction and contributed to the cost, alongside several vendors and sub-contractors."
Mrs. Albert, the company's head of internet marketing and social media, was in charge of finding the right school that would welcome such a playhouse. It seemed a tall order at first. But friend and neighbour Leon Kortenkamp, Diaconate Director for the Archdiocese of San Francisco, helped get the word out and the schools came to them.
"It was a tough decision," recalls Mrs. Albert. "The principals I got to meet all clearly care about their schools. But saying Yes to one school means saying No to the others. So, that made it important to me to choose with care." Holy Angels was the last of four school Mrs. Albert interviewed. "I was instantly impressed with how polite the kids were, even when they had no idea who I was initially. They looked me in the eye, smiled, and said Hello."
Most of us didn't dream about being scientists when we grew up, unless you wanted to be an astronaut. Perhaps it isn't too lofty to hope that for the kids at Holy Angels, this playhouse will inspire the dreaming and creativity necessary today to produce a few very special scientist tomorrow."
The playhouse will be formally presented to Holy Angels School this Friday at 2:00PM September 9th, 2011. Representatives from Holy Angels, S.E.A. Construction, Hayes Design Group, Rebuilding Together Peninsula, and Cody│Brock will be attending.
For more information you may call S.E.A. Executive Director Barbara Black at 650.287.4202 or email her at barbara(at)seaconstruction(dot)com
Share your remodel-smarts:
How do you 'cook' for family during a kitchen remodel?
Click HERE to Share your answer.
###