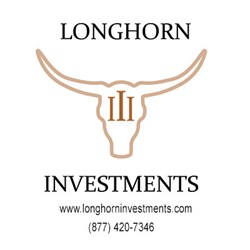 With such growth in smaller cities in Texas over the past few years we have been more willing to look at funding loans in smaller cities
Dallas, TX (PRWEB) October 01, 2013
Longhorn III Investments has seen an increase in loans made in smaller markets than in the major metropolitan markets they historically have only offered hard money loans in. Due to the increase of requests for smaller markets, Longhorn on a case by case basis, will offer hard money loans products to these markets. There is an extensive process to get a smaller market approved for hard money loans, but if there is a need for a hard money lender and Longhorn sees the long term benefit, such as population growth, then Longhorn will possibly make a lender's exceptions.
"I have been traveling back and forth for the past year from our San Antonio hard money lending office to smaller markets with an active real estate investment community, such as Corpus Christi, Texas," said Scott Fleming, Loan Consultant of Longhorn III Investments, LLC. "Even though we have typically shied away from deals in smaller markets, I could see the value that Longhorn could provide in a smaller market such as Corpus Christi. San Antonio hard money loans are huge in the real estate community where we are located. The challenge, just like with most lenders, is what is the exit strategy after foreclosure. Longhorn has been so successful because of the vetting of its borrowers and the properties. Lenders have typically stayed away from smaller markets, but the population growth and job growth over the past few years in Texas, those statistics have made it a little more attractive to lend in these markets."
Not all hard money lenders are the same. Longhorn III Investments, LLC is your lending partner in real estate investments. Their experience, expertise and access to sister companies that deal with title, legal and/or accounting make Longhorn one of the best additions to your real estate investing power team. Longhorn is not just a great rehab lender. They are a one stop shop for real estate investing services which makes them a unique partner that most other companies can't compete against. Call them for pre-approval today, 877.420.7346 or http://www.longhorninvestments.com.
"As we grow and expand our Texas hard money loan product throughout the nation and locally, there may be some opportunity that opens up to us that we previously passed on," stated Ryan Kimura, VP of Sales & Business Development at Longhorn III Investments. "Usually, Longhorn shies away from smaller markets and stays in the major metropolitan areas. This is due to the fact that if we had to foreclose, there is a better opportunity to turn around and sell that house in a metropolitan area than a smaller market or town. Simply because of sheer population numbers. With such growth in smaller cities in Texas over the past few years, we have been more willing to look at funding loans in smaller cities. Don't know if that will continue, but for now we are excited to be able to offer Corpus Christi hard money loans."
ABOUT LONGHORN III INVESTMENTS, LLC
Longhorn III Investments, LLC corporate office is located at 17950 Preston Road, Suite 300 Dallas, Texas 75252. Longhorn III Investments currently does Texas hard money loans and Missouri hard money loans and has access to almost $24MM in capital to lend from its sister private equity fund, Trident Realty Investments.