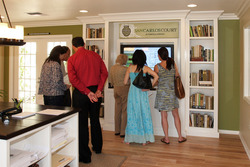 There is a tremendous level of interest surrounding San Carlos Court and we are thrilled the neighborhood is off to such a great sales start
Newport Beach, CA (PRWEB) May 12, 2010
Motivated homebuyers flocked to San Carlos Court to purchase in Phase One, generating overwhelming pre-sales for this brand new Irvine address in the Village of Portola Springs®. A remarkable 9 homes were sold in just 8 hours to enthusiastic first-time buyers who jumped at the opportunity to take advantage of great timing, unbelievable choices and big value in Irvine. Visit now to purchase a new attached home at prices from the low $300,000s and be among the first to call San Carlos Court home.
"There is a tremendous level of interest surrounding San Carlos Court and we are thrilled the neighborhood is off to such a great sales start," said Lesley Pennington, Director of Sales for William Lyon Homes. "Many Phase One buyers are local professionals and couples who have been renting in the area and who have waited for the perfect neighborhood to make the leap to homeownership in Irvine. Smart consumers realize that San Carlos Court presents an unbeatable combination of pricing, lifestyle and architecture and know they must act soon to benefit from early phase values that will not be repeated."
"During a visit to the Sales Gallery, guests should utilize the Touch Screen for an interactive overview of San Carlos Court's floorplans, as well as village recreation and award-winning Irvine Unified schools. Buyers can also learn more about William Lyon Homes' Name It & Claim It program to see if they are eligible to reserve up to $10,000 in California Tax Credits* before these state funds run out," Pennington added.
San Carlos Court offers eight townhome and flat designs; one to three-story floorplans range from approximately 1,126 to 1,901 square feet, with one to three bedrooms, 1.5 to three bathrooms, and one or two-car attached garages.
A true natural wonder, with sweeping views of Lomas Ridge and vast expanses of protected open space, the Village of Portola Springs in Irvine offers a community unlike any other. Close to a variety of amenities designed to make the most of the pristine natural environment, Portola Springs features beautiful homes in an array of inspired architectural styles.
All of the village's parks are nearby for residents to enjoy and offer everything from Junior Olympic-size swimming pools to basketball and tennis courts, tot lots, barbecue/picnic areas and grand multipurpose buildings. Upon completion, the Village of Portola Springs will have 18 private parks and a public 25-acre Community Park with lighted athletic fields.
Located near the acclaimed Northwood High School, part of one of the best school districts in the state, Portola Springs is also close to parks, trails and open space as well as Irvine's greatest shopping centers.
Portola Springs is a registered trademark of The Irvine Company. The village is a planned community developed by Irvine Community Development Company LLC, an affiliate of The Irvine Company LLC.
It matters who your builder is, and William Lyon Homes means it when they say that they put themselves into their homes. They build each and every home as if it were their own and have earned a solid track record for constructing homes throughout the West since 1954.
*The California State Tax Credit applies over a 3-year period, is for up to $10,000 or 5% of the purchase price of a newly built home, whichever is less, and is available for homes that close escrow on or after May 1, 2010 and on or before December 31, 2010 or on or before August 1, 2011, pursuant to an enforceable contract executed on or before December 31, 2010. The credit pool is limited to $100M and will be applied on a first come, first served basis. Not all buyers will qualify for the state tax credit. William Lyon Homes is not responsible for confirming whether the State Tax Credit is still available, nor is giving legal, accounting or tax advice or consulting of any kind. Please consult with qualified legal, financial and tax advisers to determine whether you will qualify for all or any portions of the state tax credits. Visit http://www.ftb.ca.gov/ for complete details or log on to William Lyon Homes' Name It & Claim It website at http://www.claimyour10k.com.
To visit San Carlos Court from the 405 or 5 freeways, exit Sand Canyon and proceed north. Turn right onto Portola Parkway and right onto Ridge Valley. Turn left on Cienega to the Sales Gallery (on left-hand side), which is open daily from 10 a.m. to 6 p.m. For more information, call 888-248-1533 or visit http://www.lyonsancarloscourt.com.
Prices are effective as of the date of publication. All homes are subject to prior sale. Prices and availability of homes are subject to change without notice. DRE Officer License: 00982816.
###