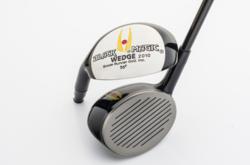 Simplify Your Short Game With A New Sand Wedge From Blackmagicwedge.com
Nationwide (PRWEB) April 17, 2013
The game of golf has many challenges, and the new Black Magic sand wedge takes on the challenge of some of the most difficult shots in the game.
With their distinct and innovative no hosel design on the face, the entire line of Black Magic clubs eliminates shank shots and greatly reduces chunking and puts the power of confidence in the player's hands. Because of the engineering behind this sand iron it is sure to save many strokes with its wide sole in conjunction with an iron face that provides fast lift and the spinning action you would expect from a great sand wedge.
"We spent much time and tried many experiments to get the results we wanted to achieve. Ultimately, it came down to what we sell today. Simply put, this sand wedge allows players to get very creative by laying the face open for flop shots and bunker shots without ever worrying about shanking. Many players will do everything they can to avoid being in the sand, but with this wedge, players can show off with their new skill with the advanced technology behind this wedge.
Players will be pleasantly surprised by the price. Black Magic clubs boasts some of the most competitive sand wedge rates available in the marketplace. Blade Runner Golf stresses its mission is to be not only be a great retailer of clubs on line and to be the leader in the industry for hybrid clubs for the short game at a discount sand wedge rates.
"We respect how much time and effort people put into the game, and we want to make it just a little more enjoyable. We feel players have come to associate our brand with real value in the golfing industry with their cutting edge of innovation. The Black Magic brand strives to be superior in every way with their competition. Players from pros to novice have come to the conclusion after using our line of clubs that this brand is a step forward in the golfing industry.
About
Blade Runner Golf, Inc. is a company that is very serious about the notion that a golfer's short game can make all the difference in his or her final score—and that players can take their short game to the next level if they only have the right club from which to choose. Black Magic's hybrid wedges Conforms to USGA Rules, but also helps golf enthusiasts find new precision and power as they make their way onto the putting green. Black Magic Wedge can be reached on the web at http://www.blackmagicwedge.com
Contact:
Black Magic Wedge
2519 McMullen Booth Rd
Suite 510-129
Clearwater, FL 33761
Toll Free Phone: 877-799-6099
sales(at)blackmagicwedge(dot)com