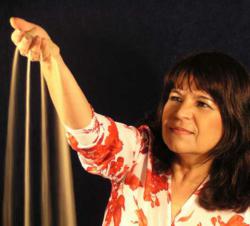 Ilana Yahav has today announced the launch of a new sand art video
(PRWEB) January 16, 2012
The magical world renowned sand animation artist, Ilana Yahav, has today announced the launch of a new sand art video designed to help make people feel good about themselves and promote goodness in the world.
According to Ilana, who only uses her fingers to create some wonderful and magical stories: be it in front of an audience, in video clips or in advertisements, her art form affords her the luxury of express her feelings and her values through her videos.
Ilana, who always knew her destiny was in art - painting, sculpting, and the plastic arts in general – has also sought after new and original ways of expressing the vast range of human emotions and feelings.
"The experience of direct contact with sand enthralled me already as a child," recalls Ilana, who had a happy childhood along the shores of the Mediterranean, which she would visit every day on her way to school.
"I would draw a personal story, a kind of living diary in the sand. I would draw quickly, trying to finish it all before the wave would come and wipe everything out. I was totally spellbound. I would stand and watch until the drawing disappeared, realizing that everything is transient and temporary," she philosophises.
However, since then Ilana ran a studio that created grotesque and realistic latex puppets and specialized in special effects for movie productions and advertisements (a field that she had studied in Hollywood, New York and London). In her studio, Ilana created the puppets for the most successful political satire program on Israeli television, based on the notorious "Spitting Image".
Since then, sand art, into which Ilana has put all her energies and talents, has emerged as a unique and minimalist art form in which she uses only that which God has blessed her with: sand, hands and soul.
"I was always captivated by the ability of hand gestures to express emotions such as anger, compassion, and love… Just as in dance, such movements create emotions that play a major role in the creation," says the sand fantasy artist.
For further information, please contact: Ilana Yahav, Sand Animation Artist, at http://www.sandfantasy.com.
Subscribe Ilana's YouTube channel : http://www.youtube.com/sandfantasy2008.
Facebook page: http://www.facebook.com/ilana.yahav
###