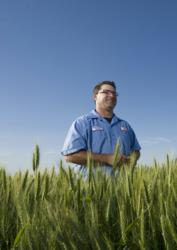 SACRAMENTO, Calif. (PRWEB) February 05, 2013
Sand County Foundation, the California Farm Bureau Federation and Sustainable Conservation are accepting applications for the $10,000 Leopold Conservation Award. The award honors California farmers, ranchers and other private landowners who demonstrate responsible stewardship and management of natural resources.
"Our 2012 California Leopold Conservation Award winner, Dino Giacomazzi, is an outstanding land steward, but he isn't the only landowner doing exceptional work for natural resources in California," said Brent Haglund, Ph.D., Sand County Foundation President. "We look forward to honoring more innovative farmers and ranchers, like Dino, who are committed to the enhancement of California's rich and diverse agricultural landscape."
Given in honor of renowned conservationist Aldo Leopold, the Leopold Conservation Award recognizes extraordinary achievement in voluntary conservation. It inspires other landowners through these examples and provides a visible forum where farmers, ranchers and other private landowners are recognized as conservation leaders. In his influential 1949 book, "A Sand County Almanac," Leopold called for an ethical relationship between people and the land they own and manage, which he called "an evolutionary possibility and an ecological necessity."
"The California Farm Bureau is proud to be part of the Leopold Conservation Award," said California Farm Bureau Federation President Paul Wenger. "California farmers and ranchers manage their land not just for the next year, but for the next generation. The Leopold Conservation Award recognizes outstanding examples of the thoughtful approach to conservation that farmers and ranchers undertake every day."
"The Leopold Conservation Award celebrates California's often overlooked conservation heroes who produce our food and steward our environment in ways that benefit people and the planet," said Sustainable Conservation Executive Director Ashley Boren. "Every day these individuals and families prove that a healthy environment and economy are not only possible, but essential to a bright future for the state."
The Leopold Conservation Award is possible thanks to generous contributions from many organizations, including The Lynde and Harry Bradley Foundation, The Nature Conservancy, and S.D. Bechtel, Jr. Foundation.
Nominations must be postmarked by July 12, 2013, and mailed to Leopold Conservation Award c/o Sustainable Conservation, 98 Battery Street, Suite 302, San Francisco, CA 94111. The 2013 Leopold Conservation Award will be presented in December at the California Farm Bureau Federation's Annual Meeting in Monterey.
For application information, please visit http://www.leopoldconservationaward.org.
ABOUT THE LEOPOLD CONSERVATION AWARD
The Leopold Conservation Award is a competitive award that recognizes landowner achievement in voluntary conservation. The award consists of a crystal award depicting Aldo Leopold and a check for $10,000. In 2013, Sand County Foundation will present Leopold Conservation Awards in California, Colorado, Nebraska, South Dakota, Texas, Utah, Wisconsin and Wyoming.
ABOUT SAND COUNTY FOUNDATION
Sand County Foundation is a private, non-profit conservation group dedicated to working with private landowners to improve habitat on their land. Sand County's mission is to advance the use of ethical and scientifically sound land management practices and partnerships for the benefit of people and their rural landscapes. Sand County Foundation works with private landowners because the majority of the nation's fish, wildlife, and natural resources are found on private lands. The organization backs local champions, invests in civil society and places incentives before regulation to create solutions that endure and grow. The organization encourages the exercise of private responsibility in the pursuit of improved land health as an essential alternative to many of the commonly used strategies in modern conservation. http://www.sandcounty.net
ABOUT CALIFORNIA FARM BUREAU FEDERATION
The California Farm Bureau Federation works to protect family farms and ranches on behalf of more than 74,000 members statewide and as part of a nationwide network of more than 6.2 million Farm Bureau members. http://www.cfbf.com
ABOUT SUSTAINABLE CONSERVATION
Sustainable Conservation believes promoting a healthy environment can be good for business. Our award-winning climate, air, water and wildlife initiatives promote practical solutions and tangible results for California and its people. Founded in 1993, Sustainable Conservation's effectiveness lies in building strong alliances with business, agriculture and government – and establishing models for environmental and economic sustainability that can be replicated across California and beyond. http://www.suscon.org
###