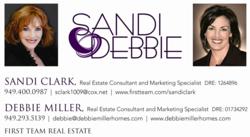 They say "Timing is Everything" It just isn't the same for everyone. Our job is to get everyone running on the same clock.
Irvine, CA (PRWEB) August 31, 2012
Sandi Clark and Debbie Miller, have been nationally featured on CBS Money Watch, The LA Daily News, and The San Diego Tribune, are Celebrity Real Estate Agents who are co-authoring a new business book titled, "Leading the Field: Strategies, Advice & Inspiration from World Class Experts," in which they will be sharing their over 25 years combined of expertise in the field of real estate and their knowledge on running a first class business.
Sandi and Debbie have had over 25 years combined in Real Estate expertise, "We have experienced just about every kind of market from booming, stable, distressed and now, on the comeback trail. What a ride it has been!" says Sandi. Their experience has taught them how important it is to continue to take courses and to always update their marketing and negotiating skills. Most importantly, they have learned how vital it is to communicate with their clients and stay connected in this complex market. They consider their job to share what they know with their clients by providing information and guidance in their real estate decisions. Debbie says, "Whether our clients are buying a home and want to be sure they aren't overpaying, or they are selling their home and are concerned that they get the best marketing to find just the right buyer, we will be there for our clients."
Sandi and Debbie are excited to be collaborating with other leading experts and best-selling author Robert Vitelli, to provide consumers with insightful information into various practices and professions, via this new book.
In this new business book, Sandi and Debbie will be sharing their insight in the field of real estate. "Our ideal client is 40-65 and has purchased real estate before—they are financially savvy, smart and successful. They may want a bigger home that expresses their success or they may want to downsize and be free to travel. They recognize our value and consider us part of their financial team. They call us about anything Rea Estate related. We want to work with people who are just like us!", says Sandi and Debbie.
First Team Real Estate
Sandi Clark and Debbie Miller
Sclark1009 (at) cox (dot) net
Debbie (at) debbiemillerhomes (dot) com
949-400-0987
http://www.BestLuxuryHomesInOrangeCounty.com
"We Support The H.O.M.E. Foundation"
About The H.O.M.E. Foundation:
The Helping Others Means Everything, or The H.O.M.E. Foundation, is a not-for-profit organization dedicated to helping our Family of Charities. Frankie Verdugo, President of The HOME Foundation, wants to help as many worthy charities as possible as they struggle during these tough economic times. Frankie Verdugo helps raise funds through luxury dream home raffles, home giveaways, prizes, and high profile celebrity events in Hollywood... "Our mission is to help charities reach their fundraising goals and to bring awareness to their praiseworthy causes."