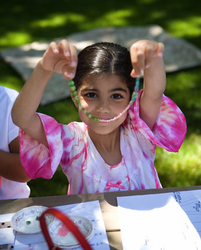 We're excited about our expansion into the San Diego area and feel our unique children's programs will be a welcomed addition for local families
San Diego, CA (PRWEB) October 6, 2010
Dragonfly Designs, a jewelry company based in South San Francisco, today launched its new after school programs and beaded birthday parties for children in the San Diego area. The company, which also sells handmade jewelry and supplies online, is now offering beaded birthday parties for kids and after school enrichment programs where students learn real jewelry making techniques.
Dragonfly Designs' jewelry-themed birthday parties are available for children ages five and up at any location in the San Diego area. Starting at only $25 per guest, the company delivers a complete party package to your door including two educated instructors to teach and assist, party invitations, top quality beads and crystals, sterling silver clasps, accents and charms, and party favor pouches to contain the guests' handmade treasures.
After school enrichment programs through Dragonfly Designs focus on teaching students advanced yet age-appropriate jewelry making techniques including copper etching, wool felting, stamping and dapping, bead stringing, wire work, resin pendants, finger knitting and hair jewelry. The after school classes are currently available in the Poway and Cardiff School Districts with plans to expand in the coming months. Starting today, the programs will be available in the following schools, grades and days:

Willow Grove Elementary School, K-5th grades, Mondays
Turtleback Elementary School, K-5th grades, Tuesdays
Ada W. Harris Elementary School, 3rd-6th grades, Tuesdays
Cardiff Elementary School, K-3rd grades, Wednesdays starting 12/1/10
Chaparral Elementary School, K-5th grades, Thursdays
Westwood Elementary School, K-5th grades, Fridays
The company plans to expand in the San Diego area and offer week-long winter, spring and summer camps where kids will learn jewelry-making techniques and enjoy morning yoga sessions and local eco-hikes.
Stacee Gillelen, a former V.P. Bank Manager at Bank of America and mom of four, founded Dragonfly Designs in 2005. After following her heart's desire to work with children, Gillelen launched her home-based studio and restructured the business to offer classes, camps and after school programs at local schools. Dragonfly Designs now offers after school programs in more than 75 schools and employs 24 teachers in and around the San Francisco Bay Area and now San Diego. Each month, 10 percent of all Dragonfly Designs' retail sales are donated to organizations dedicated to improving the human condition, promoting equality and protecting the environment.
"We're excited about our expansion into the San Diego area and feel our unique children's programs will be a welcomed addition for local families," said Gillelen. "We provide a fun, safe and inspiring atmosphere where children not only learn to explore their creativity but also learn a valuable lifelong skill."
About Dragonfly Designs
Located in South San Francisco, Calif., Dragonfly Designs is a socially conscious jewelry company with designs available for purchase online as well as in specialty boutique shops. Each piece of jewelry is handmade with careful attention to originality and craftsmanship using only the highest-quality materials from around the world. At our home-based studio, we offer jewelry making classes and camps for children as well as after school programs, custom birthday parties and home shows for residents in the San Francisco Bay Area and San Diego counties. At Dragonfly Designs it is our mission to offer exceptional handmade jewelry and the opportunity to create it, while promoting social justice, personal style and fun. Each month, ten percent of all retail sales are donated to organizations dedicated to improving the human condition (especially for women and children), promoting equality, and protecting the environment. For more information, please call (650) 303-1900 or visit http://www.jewelrybydfly.com
###