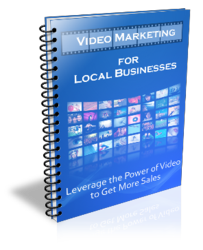 If your business isn't on page one of Google it doesn't exist, and if people can't find you, they can't buy from you
San Diego, CA (PRWEB) November 30, 2012
"According to Sitepoint.com, over 70% of clicks on Google go to organic results and 75% of people don't click past the first page," says David Carleton, president of Local Business Marketing Success in San Diego, CA. "That means that for all practical purposes, if a business isn't on page one 7 out of 10 people will never find. And if people can't find a business online, they can't buy from it either."
One of the most effective strategies to gain the coveted page one placement is using video marketing. Videos are effective method of small business marketing because they give companies the chance to show, and not just tell, current and prospective customers about their business. The most effective "lead generation" videos are short in during lasting no more 60-90 seconds. Their basic purpose is to "get the click" and direct viewers to the company website where they can learn more.
"The problem is that most "brick and mortar" companies spend the bulk of their marketing efforts trying almost exclusively to drive traffic to their store or office, but forget to drive traffic to their website" continued Carleton. "But the reality is that most prospects won't take the time to visit a retail store until they have visited a company's website." It is a very important San Diego Internet Marketing strategy for small business.
"Creating the video is only step one," says Carleton. "The most important step after that is making sure the video gets seen by as many potential customers as possible. This involves optimizing the video for the search engines as well as distributing it to popular video sharing websites like YouTube which is owned by Google."
The benefits of using utilizing video marketing to drive traffic to a company website or blog are numerous, but here is a list of the top 4:
It's Inexpensive - Creating a video doesn't require any fancy equipment and can even be done using some of the higher end smart phones and tablets. In addition, getting a video online is free through many services or costs very little to host on your own website.
It's Targeted - In the past, the only place a business could really get a video seen by thousands, or even millions, was by advertising on TV. With video marketing, companies can laser target their videos to reach a specific audience and market to that audience, so that the message gets in front of the right people.
It's Trackable - When advertising on traditional media, marketers don't always know if it's working or not. The advantage of online marketing is that marketers can get detailed analytics and tracking statistics. From how many times the videos are viewed, to how many people clicked on a link and ended up on their website and even buying specific products.
Showcasing Expertise - Prospective customers want to do business with companies they know, like and trust. Online video provides even small companies this opportunity. Informative videos can show viewers that a specific business is one that potential customers can turn to for expert products and advice.
"Although video marketing has helped thousands of companies increase sales, many small business owners don't have the time or expertise to write the scripts, create and optimize the video and then distribute it through the most effective channels," commented Carleton. That's why we created the free guide "Video Marketing Success Manual."
"This free video marketing guide was created to provide small business marketing ideas to owners with a step-by-step process to get their video marketing efforts up and running." said Carleton. Small business owners looking to pick up a copy of this free guide, can do so by visiting the company's website at:
http://localbusinessmarketingsuccess.com/drive-traffic/video-marketing/
About Local Business Marketing Success
David Carleton is a San Diego Local Business Marketing Success Consultant who specializes in showing small business owners how to spend less and get more from their marketing and advertising using low cost strategies in local business marketing, lead generation and conversion, Internet marketing and social media.
Dave has been a keynote speaker for many industry, Chamber and trade groups across the United States and has written several books including The Ultimate Lead Generation System and The Essential Referral Marketing System. In addition, he has appeared on San Diego television several times including KUSI and CW6 providing unique strategies to small business owners on Social Media, Internet Marketing and Lead Generation.
To learn more go to: http://LocalBusinessMarketingSuccess.com