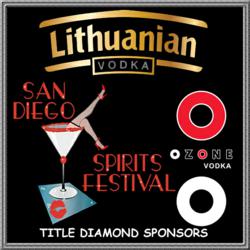 Its all about Cocktails, Culinary and Culture on San Diego Bay
San Diego, CA (PRWEB) August 15, 2012
The 2012 The San Diego Spirits Festival August 25 -26, will transform your every cocktail desire into a reality with some of the hottest brands, as brand ambassadors tease your taste buds with our 2012 featured lineup.
Title Diamond Sponsor B&I Overseas Trading is planning an unforgettable experience with both Ozone Vodka – which is Certified Kosher and "Lithuanian vodka Gold – Black Edition" delicate and crystal clear.
Platinum Sponsor: The Unified Port of San Diego and the San Diego Tourism & Marketing Board
Gold Sponsors: Pisco Porton, Milagro Tequila and Hendricks's Gin
Silver Sponsors: Tatra Tea, Berentzen Liquors, Pink Pigeon Rum and Chinaco,
Bronze Sponsors: Conjure Cognac, Quint Sangria, and Tequila El Cartel
Java Juice, Double Cross Vodka, Distillery 209 Gin, Quint Sangria, Quick Strain Tinis, Naughty Cow Liqueur, Twisted Shots, Ron de Jeremy Rum, Magners Irish Cider, 619 Vodka, VeeV, Bendistillery' s portfolio of award-winning small batch American vodkas and gins including Crater Lake Vodka, Cascade Mtn Gin, Mazama Vodka, Cofia Vodka, Tequila Sin Rival, Cocula Tequila, Nobeleza Tequila, Corazon Tequila, Semental Tequila, Mezcal Los Javis, Alquimia Organic Tequila, La Nina del Mezcal, Tequila Tres Mujeres, Tequila Fortaleza, Whipsy, Fee Brothers Mixers, Partagas Cigars, Naked Juice, Joia All Natural Soda, Icelandic Water…and many more still coming on board.
From the skilled craft bartender, to the local foodie or novice cocktail enthusiast, this year's two-day festival promises to delight and excite all who attend.
The San Diego Spirits Festival is drawing attendees from around the world, guests will be invited to mingle with spirit brand ambassadors as they sip and savor the latest cocktail creations, amidst the salt and sea air of San Diego Bay. Learn more about the world of mixology, or get brief history lesson on the stories behind your favorite brands, as you immerse yourself in the 'spirit' of the festival..
The 2012 San Diego Spirits Festival will feature bartender competitions from top rated talent, being judged by Industry Leader Henry Preiss and a team of judges including Jeff Josenhans, Kyle Hall, Mark Russo and last year's Bartender Battle winner Mike Yen.
You won't leave hungry this year as the festival welcomes culinary demonstrations by executive chefs from leading local restaurants. Participating chefs at the San Diego Spirits Festival include: Katherine Humphus of BO-beau kitchen and bar, Karl A. Prohaska of Handerly Hotel, Alberto Morreale of Fig Tree Café; Brandon Brooks of Sol Markets, Davin Waite of Pickled Ginger Catering, and his brother Lorin Waite of Sushi Bus, with a special presentation by Chef Tyler Stone, and more still to come!
Food will also be available for purchase from OB Seafood, Jack n Box and Panda Express.
Be Entertained by: Alas de Mosca, Alex Arndt & Sonic Universe; Bruce Sanborn Band, Dirty Minds, Flash Point Rocks, Funky Munky, Jamilla, JC Villafan, Latex Grenade, Mathew Zeltzer, Sacha Boutros and The Rebel Light.
VIP guests will be treated to a VIP tented area furnished by Artist Gustaf Rooth, a sushi bar during the after party and lots of surprises throughout the day.
Guests will enter via the vast public forecourt and be greeted by artists, local food trucks and other engaging elements, leading them to the end of the Port Pier and the Pavilion Space Entrance.
Walk past the Silent Auction as you enter and bid on some great items, the proceeds will go to Chef de Cuisine Association and WEBI
The 4th annual San Diego Spirits Festival will be the event of the Summer and will be held on August 25-26 2012- get tickets here. use code SDSF20 to get 20% discount
Drink responsibly, and let UBER do the driving!
Our friends over at Uber, the on-demand car service, are providing transportation for the weekend festivities. Guests will receive $30 off their first Uber ride to or from Festival on Saturday or Sunday. To claim your discounted ride, please sign up for an Uber account by downloading the Uber iPhone or Android application on your mobile phone, or sign up http://www.uber.com/signup and enter the promo code: SPIRITSFEST
About San Diego Spirits Festival:
San Diego Spirits Festival was founded and launched in San Diego in 2009 by Liz Edwards. San Diego Spirits Festival is a nationally acclaimed celebration of cocktail culture, and is the premiere West coast spirits festival held on the beautiful San Diego bay. With bartender competitions, tastings, seminars and parties, the festival offers a one-of-a-kind opportunity for brands to be supported and gain recognition among San Diego's cocktail and culinary community and beyond.