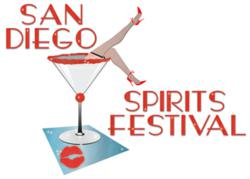 One of the 5 Best Cocktail Festival in America
San Diego, CA (PRWEB) February 27, 2013
San Diego Spirits Festival is thrilled to announce that they have been named by Fodors.com as one of the Top 5 Cocktail Festivals in America.
The 5th San Diego Spirits Festival (taking place Aug 24 -25) will offer up 2 days of spirited celebrations, with Cocktail Competitions, Chef Demonstrations, Fun Educational Seminars, VIP after-parties, and other fabulous and unexpected entertainment, the San Diego Spirits Festival is a Lifestyle designed event that offers a one-of-a-kind and memorable experience!
The San Diego Spirits Festival is planed for the consumer and industry insider alike – with endless opportunities to learn about all trends in both cocktails and culinary. From under the radar artisan craft spirits to discovering the 'next big brand' – the San Diego Spirits Festival offers something for everyone.
The stunning waterfront at the Port Pier Pavilion on Broadway is home to the Festival and it offers an absolutely beautiful backdrop.
San Diego Spirits Festival will draw international attention and offers a multi-faceted thrilling event combining the three most important elements to any festivity…Cocktails, Culinary and Culture. From the prestigious Executive Chef to the Mixologist, the local foodie, and all the way to the novice cocktail enthusiast, the two-day festival promises to delight and excite all who attend.
San Diego Cocktail Week (Aug 19 -23) will kick off the Festival and plans are underway for a week long of festivities.
San Diego's collection of hotels and resorts are as diverse as they are plenty. San Diego hotels range from award-winning, world-class resorts and historic icon-status hotels, to renowned global brand properties. San Diego Spirits Festival host hotel "W San Diego" will be the hub, and hotel rates have been negotiated at three Downtown Sheraton Properties including the W San Diego, US Grant and the Westin Gaslamp. Book here!
We have released Early Bird Tickets so as not to disappoint those who want to make their plans early. Book your tickets and hotel and stay Downtown.
San Diego Spirits Festival sends a Toast out to our Media Partner Beverage Trade Network. BeverageTradeNetwork.com is one of the world's leading networks for beverage, wine, spirits and beer importers, distributors, producers and related companies.
About San Diego Spirits Festival:
San Diego Spirits Festival was founded and launched in San Diego in 2009 by Liz Edwards. San Diego Spirits Festival is a nationally acclaimed celebration of cocktail culture, and is the premiere West coast spirits festival held on the beautiful San Diego bay. With bartender competitions, tastings, seminars and parties, the festival offers a one-of-a-kind opportunity for brands to be supported and gain recognition among San Diego's cocktail and culinary community and beyond.