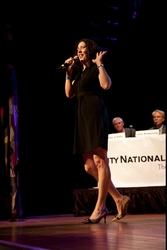 When we started LAF-Off, we didn't know what to expect
San Diego, CA (PRWEB) March 8, 2011
LAF-Off, which stands for Lawyers Are Funny, is celebrating its 5th Anniversary at the House of Blues on Thursday, March 24, 2011. What started out five years ago as a novelty stand-up comedy competition for lawyers has turned into one of the biggest fundraisers for San Diego Volunteer Lawyer Program.
"When we started LAF-Off, we didn't know what to expect," said Amy Fitzpatrick, Executive Director of the San Diego Volunteer Lawyer Program. "Most people don't equate lawyers and comedy, unless you're telling a lawyer joke. LAF-Off gives San Diego lawyers the chance to laugh at themselves, have a great night out, and do some good in the community at the same time. "
The LAF-Off competition features local attorneys and law school students showcasing their original standup routines to an audience of 400 people. Three "judges" then pass along scores, and determine who is the funniest lawyer (or law student) in San Diego.
"Be careful what you wish for," said Patti Zlaket, an attorney at Casey Gerry who won the competition in 2010. "You get labeled as 'The Funniest Attorney' and suddenly everyone wants you at their dinner or event. I can't wait for the next LAF-Off to hand over the reigns to someone else. I want my life back."
In addition to winning the title of "Funniest Attorney," the winner of the LAF-Off is automatically re-entered the following year. "You mean I have to do this again?" added Zlaket, who is on the slate of this year's contestants.
All proceeds from LAF-Off support the important work of the San Diego Volunteer Lawyer Program. The San Diego Volunteer Lawyer Program is made up of 20 attorneys and staff who, with the help of hundreds of volunteer legal professionals, provide legal assistance to foster children, the homeless, victims of domestic violence, and people living with HIV/AIDS. This past weekend, the Program also served as co-Sponsor of the Women's Resource Fair, which took place on March 5, 2011 and provided support to over 1,000 women and children.
"The response we had from the very first LAF-Off was so overwhelming that we had to do it again," added Fitzpatrick, whose organization helps provides free legal services to 6,500 clients every year. "Five years later, the event really has taken on a life of its own. And since so much of our funding is at risk because of the economy and budget cuts, LAF-Off is more important than ever."
Former LAF-Off contestant Jim Pokorny will emcee the event, having abandoned the possibility of ever winning. Tickets for the 5th annual LAF-Off, presented by City National Bank, start at $60. To purchase tickets and for other information, visit http://www.lafoff.com or call (619) 235-5656, ext. 116.
About the San Diego Volunteer Lawyer Program
Since 1983, the San Diego Volunteer Lawyer Program (SDVLP) has changed the lives of thousands of poor women, children and men throughout San Diego County. A private, non-profit organization, SDVLP is the county's oldest and largest pro bono legal services program, assisting approximately 6,500 clients each year. SDVLP serves the most vulnerable members of our community: the homeless, abused children, domestic violence victims, elder abuse victims, veterans, immigrants and HIV/AIDS sufferers. SDVLP is supported by grants and service contracts from public and private agencies, foundations and professional organizations, as well as contributions from businesses, corporations, law firms and individuals.
# # #