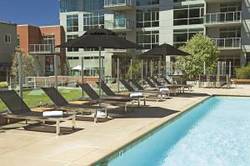 This allows an uninterrupted frontage for the ground-level commercial spaces along Market Street; a design feature that further integrates The Mark into its urban surroundings
San Diego, CA (PRWEB) August 20, 2008
The downtown San Diego luxury real estate market, along with other urban housing markets throughout the U.S., is gaining yet another important "sales tool" to entice growing numbers of people to relocate downtown, according to one urban architect.
Simply put: $4-per-gallon gasoline.
Denver-based Chris Shears predicts continuing high prices for gasoline and the impacts that has on consumers and businesses will attract suburbanites and others who do business or frequent entertainment in downtown venues to become permanent residents.
"It's hard to imagine anything positive about the continuing crisis in gasoline prices, but it is sure to halt suburban sprawl and bring more people back to the central city," Shears said in a recent interview. "As a result, we're already seeing a dramatic increase in the appeal of downtown living."
That observation applies to the downtown San Diego real estate market where Shears has designed two major East Village residential landmarks, Parkloft and The Mark, both projects of the Douglas Wilson Companies.
In fact, The Mark has become the premier condominium building among San Diego luxury condos, attracting homeowners from San Diego's suburbs and beyond. More than half its 244 urban residences have been sold since opening last summer.
The Mark's location, one block from PETCO Park, is one important reason for its popularity, but there's more to its appeal, Shears said.
"People recognize the building and its grounds have design integrity that honestly expresses San Diego urban living," Shears observed. "For example, The Mark doesn't try to imitate an Italian villa or something out of the past that will date it. Its splendid contemporary design has become the neighborhood's architectural centerpiece."
The 33-story metal-and-glass tower balances the size of its balconies with how people actually will use them, thereby adding design complexities to the building without detracting from a clean and functional appearance, Shears said. Its full-city block site includes an interior courtyard, complete with a lap-length swimming pool, hydrotherapy spa and grass lawn that serves as an urban backyard where residents meet and socialize.
"Most high-density condominium projects don't have a courtyard with the amenities found at The Mark," Shears said, citing other urban projects he and other architects have designed for other clients.
Yet another distinctive is The Mark's main entrance that faces the interior courtyard and is served by a private interior drive.
"This allows an uninterrupted frontage for the ground-level commercial spaces along Market Street; a design feature that further integrates The Mark into its urban surroundings," the architect noted. The commercial facilities that will occupy those spaces will serve residents of nearby condominium projects as well.
"Many, if not most, people take vacations to other cities in order to experience their restaurants, theatres, parks and other amenities," Shears said. "Downtown San Diego is among the most popular tourist venues and there's good reason to foresee that many people will decide to relocate there because of what's available."
Those who take a look at The Mark will have an unprecedented selection of 53 one-, two-, and three-bedroom floor plans from which to choose, ranging in size from 739 to a spacious 2,430 square feet. A two-story penthouse is shown by appointment only. Many residences have sweeping morning and sunset views of Downtown San Diego, Balboa Park and San Diego Bay. All units are a short walking distance to downtown San Diego restaurants and shopping.
Each home at The Mark is designed for gracious living and entertaining with features such as German-made Studio Becker cabinetry, GE stainless steel appliances and gas cooktops; upgraded GE Monogram appliances in specific residences on the 20th floor and up. Spaciousness is enhanced by nine-foot ceilings in units on floors 2-19 and even higher 10-foot ceilings for those on the higher floors. Gourmet kitchens have easy-to-care-for granite slab countertops. Bathrooms feature beautiful Travertine surrounds for showers and tubs and high-quality and conservation-minded Toto bathroom fixtures.
The long list of common area features includes secure parking for 427 automobiles on three subterranean levels. The Mark's resort ambiance is further enhanced with 24/7lobby attendants, concierge and onsite general manager.
Prices range from the low $500,000s to over $3 million, making The Mark a true value among downtown San Diego condos as well as San Diego real estate as a whole.
The Mark is located at 800 The Mark Lane, between Eighth and Ninth avenues, and Island Avenue and Market Street.
###